Kira Lightfeather
(?)Community Member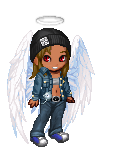 Dedicated Gaian
5,600 Points
200
Posted: Wed, 08 Oct 2014 22:20:25 +0000
Kiken Rider
[ Isle de Gambino ]

"With pleasure, fleabag!" The less salty pirates retreated when Dorian wolfed out, making room for their much more daring leader, who lashed out at the lycanthrope, but only caught a brick of ice to the eyes. The blood red ice crumbled to pieces upon impact, but left Kinza feeling quite stupid, having been countered with a result of his own magic. Sliding into the sand, he threw himself back to his feet and slowed his trip by stabbing the sword in the earth, leaving a trail of cold stalagmites in its wake.
"Talk about rolling a nat-twenty... ow!" He winced at the slightly numbed bump forming at his forehead, then plucked his frost blade from the sand. "Oh, thanks a lot for the help, guys!" Kinza shouted, rubbing his sore forehead. "Do something!"
Almost at his word, Kinza's pirates jumped on Dorian, fighting to hold him steady. Their leader reached into his sash, retrieving an ornately decorated flintlock pistol, aiming it at Dorian. Pinching an eye shut, he cocked back the hammer and squeezed the trigger, lighting up the area with a bright flash and a crack of lightning.

Meanwhile, Mahina was dealing with her very own fleabag, albeit unknowingly. Slait and her were clearly on their last strings, and things were bound to get ugly. She noticed the peculiar, autonomous bass guitar bumbling towards the docks, but paid it no mind.
"Listen here, "Colonel", clearly you don't know me," She said, cracking her knuckles. "So I'll try not to kill you. Consider that merciful!"

"Oi, Mahina," Godzilla said, nodding towards Filipe holding back a struggling Eve. "What about the haole?"

"How many times do I have to say it? Get them outta here!" Mahina commanded, the fire burning in her eyes. "I can handle this myself!" She exclaimed, and the goddess barged forward forward, fast but hard, her fist reeling back to clock Slait with a literal ton of force behind it. Her technique was nothing to write home about, but the leader of the Native's gang was imbued with a strength like no other, and the ferocity to use it.

"You heard the lady, bro, let's make tracks!" Zilla urged Eve next to Filipe, the faun really having little choice in the matter. It wasn't just Eve Zilla was worried about - fights against Mahina tended to shape landmasses, and he didn't want to be in the middle of it.
[Gambino Isle Docks.]
Kira went over Slaits head as she quickly cut Zilla, Eve and Filipe off from trying to leave the area. This task was not hard for a winged Angel like herself who was very determind to get the truth. "Since your boss won't be honest and the Gambino military seems to be questioning her someone must findout what her three lap dogs know." Drawing both swords as she landed pointing the blades to the ground she looked down at the very tips of her holy swords which had been blessed by seven gods and sharpened with the blood of all she had cut down before.
"These blades have the blood of 892 enemies on them. The more blood the sharper the blades get so lets see if we can reach 895 shall we? Or you could always tell me where this Luna girl is and I can just let you pass." She looked up with a look of deep death so cold you wouldn't think an Angel could have such a look. "What do you say?"