My Coin-Operated Boy Toy
(?)Community Member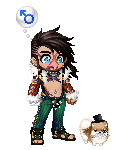 Posted: Fri, 30 Mar 2012 05:21:42 +0000



•

•

•

•

•

•

•

•

•

•

•

•

•

•

•

•

•

•

•

•

•



indent

'It's always the same..' The though reverberated in the young man's mind as he made his way down the landing ramp into the Los Angeles Regional airport. Glancing around, purse coming to his lips as he realized far too late that he hates the hustle and bustle of these places, Casimiro quickly tried to find his bearings. Turning the music that pulsed in his ears up a notch, and checking his phone for any missed messages, the male carefully navigated towards luggage claim. Bouncing slightly as he watched the conveyer belt pushed luggage in it's eternally circular pattern two bags caught the tanned male's attention. Snatching them quickly, Casi began towards the exit, dialing a number clumsily into his phone.

"--'ello? This is Alesia, correct? Okay.. Oka-- slow down, I'm.."

Carefully fighting to get through the airport, Casi's conversation continued with the woman's rambling in his ear and his struggling to understand anything she spoke of.



indent

Once Casimiro broke free of the crowded airport, and hailing a cab, the male dug through one of his two suitcases for a change of clothes. The taxi driver had begun to prattle on about something or other, and Casi paid little attention until the vehicle filled with silence. One arm out of his shirt, the other struggling to break free of it's confinement, the boy explained,

"Eyes on the road, I'm just changing real quick. That flight was far too long.."

A fifteen minute drive later Casi stepped out of the cab clad in a fresh tee, paid his driver, and moved into the cafe that he had been instructed to meet his teammates at. Once inside, after catching a strange look from the barista behind the counter - most likely due to the luggage the male was dragging along - the woman realized whom he had to be.

"You must be with the other two, yeah? The blonde and her friend?"

For a moment Casi's face went blank, a sign that he didn't remember what his contacts looked like, but then the expression shifted to a smile and a nod.

"Oh, yeah. Yeah! I'm with those two."

Either the woman didn't catch his confusion, or didn't care, as she quickly lead Casi towards the back, up a flight of stairs, and into the second story, and to a small private room.



indent

Three menu's sat upon the table, two individuals sat there, and an empty seat lay in wait for him. The first was a blonde woman.. and blonde was an understatement. Her hair was stark white, cut short in a pixie cut, and her bright blue eyes honed in on Casi the moment he cleared the doorway.

"Casimiro Torrado, I presume? Took you long enough, I mean we've only been here for nearly an hour. The airport is only a fifteen minute drive from here, and your plane landed.."

Alesia never slowed down as she spoke, though she did glance at her watch,

"..twenty-two minutes ago. How can you waste so much time?"

This assured Casi that the woman before him was the one he had spoken to many times over the phone. "Pleasure to meet you too Alesia." Giving a dry chuckle, Casi's gaze drifted to a slightly older man who looked quite bemused.

"Solomon?"

In truth, Casi had never spoken to the man, but he had been told plenty about him by Alesia. The man gave a simply nod, the mostly bemused and slightly smug look still on his features.

"See? What did I tell ya? He's like a rock."





indent

Sitting at the open slot, his bags tossed to the floor against the wall, Casi gave a cautionary glance towards the doorway before asking,

"Okay.. I've got the gist of what we need to do.. but how about you refresh my memory. We needs a coin, yeah?"

Frowning, Alesia remained uncomfortably quiet for a moment, before scolding,

"Can't even remember the mission? What a shame. We have to.. acquire a specific coin, one that used to belong to King Belshazzar, to be precise. It's--"

As Alesia fell silent once more, Casi's eyebrows arched high.

"So, can I take your orders? Or rather.. can I take yours, handsome? And how about I get you another coupl'a drink you two?"

Jumping in his seat as he realized that the barista had returned, Casi muttered,

"Drinks? Oh, yeah. How about a cappuccino? And whatever they were drinking. My treat."

Smiling towards his new companions, the waitress chimed out,

"Okay then, that's two cappuccinos and a triple shot espresso. Be right back."

Narrowing his eyes to Alesia, the male knew who the espresso had to be for.

"So..."

The word seemed to hang in the air until the barista was well out of earshot,

"Like I was saying. Your job is to get the coin before the show opens.. and our job is to help ya. So here."

The woman gave a quick gesture to Solomon, who pulled something from his pocket. Placing a dark coin upon the table top, the replica looked to be ancient. Picking up the item, Casi turned it over in his hand slowly, examining it.



indent

As the woman returned with their drinks, the conversation hushed again. Setting the cappuccinos in front of Casimiro and Alesia, and the triple shot espresso in front of the ever silent Solomon, Casi couldn't help but tease,

"You've got to be kidding me, right?"

Passing a dark colored debit card towards the woman, who swiped it on a little device she had brought with her on the drink tray, the trio was left alone once more to their plotting.

"Okay. So what exactly is the plan? I mean.. we have this one.. and we need the other one. So..?"

"Switch them." Alesia seemed startled as the Solomon spoke.

"I swear, that's the first ********' thing he's said since I've met him. Scared me right outta my skin!"

Rubbing at his temples, Casi explained, "I figured that.. but how? I mean, do we know anything about when the coin will get here? If it's already here? Anything?" Alesia rolled her eyes, muttering,

"Of course we do, dummy. That's what you've got me for."





indent

Two hours later the trio split up, heading to their own hotel rooms for the evening. Their plan had been formulated, and now that Casimiro had been caught up the boy seemed more at ease. Waking the next morning, they were to regroup near the location of the art show, which was still being set up and 'stocked' with art. The venue was in a public part of town, near many other shops and restaurants - which meant witnesses. But that was why he had Alesia and Solomon. The woman was young, but apparently had an affinity for gathering information. Then there was Solomon, master of illusion. He didn't have any supernatural qualities like most people Casi worked with, but was an exceptional counterfeiter and master of the art of disguise. Together, with Casi's knack for ending up with objects that don't, technically, belong to him hopefully was a recipe for success.

"We need a way to get into that building.. something that won't attract too much attention. That's where you come in. I've heard about what you can do, and I want you to steal something from one of the owners of this show. We can 'return' it later, and hopefully that'll get us in the door."

The target's name didn't matter, but had been pointed out to Casimiro by Solomon. He was tall, had a bit of grey in his hair, and leaving the art show's location only twenty feet from where Casi stood. Continuing forward, the Colombian-American feigned a stumble, a shout and a pair of hands clawing towards the taller male. One hand clutched at the shoulder, the other one caught the edge of a sports jacket,

"Sonnova.. Oh! I'm so sorry! This is entirely my fault!"

The man had stumbled as well, looking to the pair of women he had been flirting with as they left the gallery briefly before musing out in an upbeat, far too understanding tone,

"Oh! Don't worry, you're just fine!"

Helping stand Casi back up, the man brushed him off, gave a grin, and seemed to hurry away as quickly as possible.



indent

Turning away and beginning to bustle back the way he came, Casimiro pulled the wallet he had recently acquired and flashed it towards the cafe across the road. Pocketing it as soon as he saw Solomon, flashing a smile and giving a nod, noted that Casi's job was done. A black sedan pulled up, screeching to a halt as one door swung open, and the Colombian hopped in. Looking to Alesia, in the driver's seat, the woman gunned it and they were off.

"Took ya long enough, I swear.. do you always move at a snail's pace? It's a miracle that your usual team ever gets anything done."

Sighing, and looking out the window, Casi retorted,

"And it's a miracle that you haven't killed yourself with your driving yet. Have you seen how reckless you are? Not everything is a race."

Snorting, the woman hissed back,

"It's a race if I make it one.."

Shaking his head and pulling the wallet out again, Casi began to probe through it's contents. There were far too many credit cards, some cash, a few pictures of family members, and then one cream colored business card. The card was both an advertisement for the man himself, who apparently was named Julian Vaskanti, as well as for the weekend's event. Turning the card over slowly, letting his fingers trace it's textured surface. Hearing the blaring of the horn, Casi's attention shot up towards the windshield where an SUV had run a red light and cut across traffic. Giving a muted shriek, Casi's eyes clamped closed as his whole body cringed.



indent

But nothing happened. Opening his eyes, everything looked grey scale. Casimiro wasn't in the car any more.. but he recognized the location. He was somewhere within the art venue, and he was.. talking on the phone? He could hear a voice, and see that his arm was holding the phone to his ear, but it wasn't him. Though they had only spoken briefly, Casi recognized the voice as Vaskanti's.

"..That's right, nine o'clock tonight. We've gotta get the final pieces in place if we're going to be ready for tomorrow night."

Casi felt his body get pulled forward, and soon found himself pacing the room.

"I'll be there, yeah.. yeah.. Just come in through the back, I'll leave the door unlocked until, at the latest, ten thirty. By then I need to get goin'."

The voice snickered, Casi feeling his head move in a nodding motion,

"That's right, both of 'em. Nah, Susan is back home in Seattle.. so it's just me and those twins we met last night. Yeah. Tell me about it!"

Suddenly the images changed, Casi was back in the car, and everything flooded back with sudden sound, color, and clarity.

"What happened?! Wait.. watch where you're driving?! I told you that you were going to kill us!"

"Forget my driving, you dunce! What the just happened? You see somethin'?"





indent

Hours later, Alesia, Solomon, and Casimiro pulled up in the alley behind the venue, lights off as they coasted nearer the rear exit. In the alley was another large truck, the back open and ramp laid down to the street.

"Okay.. you need to get in there, find the coin, swap 'em, and if they see you just claim you're 'returning' the wallet. Understood?"

Frowning and crossing his arms as he looked out of the back seat window, Casi muttered,

"Yeah.. I guess, definitely no glaring flaws here, hm?"

Sighing and opening his door, the male began to get out of the vehicle before Solomon's hand caught his forearm.

"Stay safe."

Giving a mock salute, Casi chimed out,

"Always!"

As soon as the door closed behind him, Casi heaved a sigh and began towards the doorway. The door itself was slightly ajar, and without touching it the youth slipped into the building. Chewing at his lower lip, and rounding a corner, Casi couldn't tell who was more surprised. Vaskanti was standing there talking to another man, who was leaning on a dolly. Casi's jaw dropped, mouth hanging open a moment, while Vaskanti demanded,

"What the..? You can't be in here!"

As the man took a step towards him, Casi flung out his hand that held the wallet, muttering in an Alesia-esque manner,

"Wait, I'm sorry I was just trying to return this! You dropped it earlier when we ran into each other! Here take it!"

Hesitating, Vaskanti narrowed his eyes, elaborating,

"I.. remember you.. Thanks.."

As soon as the man swiped the wallet from Casi, and began to rummage through it, Casi began to explore the room.

"Some place you got here, eh?"

Wandering about all of the art pieces, Casi teased out,

"Total stab in the dark here, but lemme guess? You like art."

Vaskanti scoffed, beginning,

"What gave you that impression, I mean-- Wait, I said you couldn't be here. You need to get out, now."

That was when Casi noticed the display case right behind the taller man. Within it was a collection of various coins and gems, one that matched his replication perfectly.



indent

"Hey now.. there's no need to be like that! I'm a friendly guy, you two might enjoy spending some time with me."

Chuckling, Casimiro moved closer to the man, circling the display case before leaning against it.

"Oh! Neat, coins. You know, my grandfather used to collect these.. well, he collected pennies and the like. But same concept."

Vaskanti seemed frustrated now, barking,

"George! help me get this guy out of here. He's pissin' me off."

Casi quickly reached down, swiping up the coin in question, at which point Vaskanti shouted,

"Don't touch that! Do you know how old that is?"

Leaning off of the glass, Casi muttered,

"Well it looks old.. so I'd say at least fifteen years or so? Do they mark these like they did pennies?"

At that comment the man lunged forward, leaving Casi to stumble back and fall onto his a**. Scrambling back to his feet, Casi gave an,

"Eep!"

Getting to his feet and racing towards the door the man that Vaskanti had called George moved to block his way. Diving low, and squeezing the coin hard enough to leave an imprint of it's markings on his palm, Casi slid underneath the man.

"God dammit! Get him!"





indent

The exit wasn't far, and Casimiro was a quick runner. Racing down the hall, the male took a moment to glance behind him to see just how far ahead he had gotten. It was at this time that he heard a gunshot and a bullet streaked past the young man's face. Paling and reaching into his pocket the boy searched for the fake coin desperately. Finding it, and wrapping his fingers about it, Casi tried to pull the hand from his pocket.

"Damn jeans!"

Knowing that if he stayed still the next bullet wouldn't miss, Casi darted out the door. Alesia's car was gone, but that meant the alley was mostly clear. Sprinting down the narrow way, Casi released his grip on the coin in his pocket, pulling the hand free. This time reaching with just two fingers, Casi's fingertips slipped along the coin - pushing it deeper into the pocket. Two more gunshots were fired off, and Casi could hear Vaskanti talking on the phone.

"Please no police.. please no police.."

The sirens in the distance didn't comfort Casi in any way, shape or form though. Rounding the corner of the venue, and pressing tight against the wall, Casi finally pulled the fake coin from his pocket, giving a small sound of victory as he did so. Pulling his body around the corner, fake coin in hand while the legitimate one was pocketed, Casi began to shout,

"Calm down! I don't want--"

As he rounded the corner two things happened, the first was a final gunshot, the second was Casi slipping once more to land on his a** in a puddle of water, just dodging the bullet.

"I DON'T WANT THE COIN, DAMN!"

Throwing the coin towards Vaskanti, who had gun in hand, the man raced forward, dropping his firearm, to catch the glinting coin.



indent

A car's horn blared from his right, Alesia and her sedan blaring at him to get up and go. Damp from the puddle, and groaning as he could feel a bruise forming on his thigh, Casimiro stood and began towards the car. Stopping briefly, and peeking just his head around the corner, the young man shouted,

"And you should be ashamed of yourself! I hope Susan finds out and leaves your a**!"

Casi was breathing heavily now, sprinting and jumping into the vehicle.

"You better not have screwed this up! I mean, look at you! You're a mess!"

Solomon reached out and gave a pat to the woman's arm, asking,

"You okay?"

Thankful for the man's gentler attitude, Casi ducked down in his seat as they raced off. Pulling the coin free, and throwing it up onto the dashboard from the back seat, Casi breathed out,

"There, the coin! Happy? And yes, I'm fine. Thank you Solomon."

Lowering his tone, Casi hissed,

"At least someone can take a moment out of their busy schedule to ask!"

Sighing, once more Casi took a deep breath, trying to calm down his racing pulse. Once he began to pay attention he heard the end of Alesia's ranting,

"..Awesome. Okay! I'll make sure that this coin get's shipped back to the NO in the morning, great job team!"






•

•

•

•

•

•

•

•

•

•

•

•

•

•

•

•

•

•

•

•

•