Exodus XIX
(?)Community Member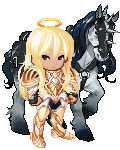 Hilarious Consumer
1,000 Points
100

100
Posted: Sun, 20 Jan 2013 03:03:43 +0000
✪βŐŐĞĨĔ МĂŃ✪

Location:Candy Turf....again.

↺ ωнαт ∂σєѕи'т кιℓℓ уσυ мαкєѕ уσυ ѕтяσиgєя, тнєу ѕαу ↻
R&R



Any thought of joy fled his body when he saw the signs and the broadcast of the Droids. It was absolutely insulting that this R1 was created. It meant he was obsolete. It truly did not mean that at all but that is just how Boogie's pride deduced the situation. As it were currently he had stopped on Strider and was just watching all of this transpire until he heard the loud boom from across the way and turned slowly to see the chain of explosions which looked to him like large plumes of flames from his view point.

The tinted Biker helmet visor lit up from this sight and his eyes were visible only for a second before he spun Strider around and started driving against traffic. Right now he did not care what the purpose of these explosions were all he cared about was having something to crush. Boogie was in no mood to joke around at the moment or even dance. Which was ironic because he did start blaring music through his helmet on the way there.

When he got to the sight of the incident Toshi had just been tossed into a clothing store. Even with his keen vision due to his cybernetic eyes he could not tell who the man was right of the bat and figured he was some civilian going off of an explosion and sent into a store. Could he have helped the man out or at least gone to see if he was alright: Sure but he was not a hero nor did he ever claim to be.

What he did see was an R1 which caused a devastating reaction out of Boogie. Clutching the front break of Strider and causing the tail of the motorcycle to go up while he still accelerated he moved his feet to be on the seat of the bike and pressed off darting his body towards the ground. Instantly when his feet hit the ground he took off in a full sprint which caused some of the street to crack and shatter but not in drastic webs. It did generate a heat line if one was watching with heat vision they would see a line behind Boogie as he ran leaving a trail of heat because of the speed in which he ran it did in fact heat up the floor beneath him.

He had no inkling of an intention to be peaceful with these abominations and was acting out of rage to lash out at this particular R1. Pulling his left arm back the pulse hand opened ripping the glove off of his hand revealing the one he wore under it. That tiny glow looked to be a stream of light as he ran and he moved to place that hand in the gut of the R1, grip and with all his cybernetic strength throw it to the ground with his hand still on it's midsection he would activate a sound pulse into the metal which was not covered by the white armor. The vibrations were enough to open the street floor beneath them and place them both in a crater twelve feet wide. It would also be enough to not only cause physical damage to the area in which he had a hold of but the vibrations from the sound blast would travel through the R1's body internally simply because he had hit the area which wasn't covered by the armor and sound travels off of vibration and unless this model had something to protect against that it's internal systems would be shattered.

If somehow the R1 evaded the attack Boogie wouldn't stop his assault but it would depend on how he evaded what his next move was. Boogie was completely on guard at this point and was going to prove this thing to be nothing more than a piece of garbage, scrap metal, and junk. What of Fury? Boogie had no idea he was in the area but he also did not care. Boogie was going to hunt Skulls the way he saw fit after their leader made such a huge mockery of their job he figured why not get the Skull hunter a better rep now? Besides this could be the first skull he collected: the mechanical R1 skull to go in his trophy case before he began collecting other skulls.
Weapons: The Twisted blade (Sheathed in his right leg)
Pulse hands---Active.


вυт уσυ ∂σи'т киσω ѕтяєиgтн тιℓℓ уσυ ¢σмє вα¢к fяσм тнє ∂єα∂.↻