Exodus XIX
(?)Community Member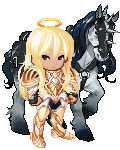 Hilarious Consumer
1,000 Points
100

100
Posted: Sat, 17 Nov 2012 06:25:55 +0000
✪βŐŐĞĨĔ МĂŃ✪

Location: Candy Turf, lost,Arakawa

↺ ωнαт ∂σєѕи'т кιℓℓ уσυ мαкєѕ уσυ ѕтяσиgєя, тнєу ѕαу ↻
Get down



It took a lot of undue time for him to get to the doors of the club and he had the song on repeat cycling through so he could keep dancing. While his body had been in constant motion so was his mind thinking back on that dream and that guy that he was talking to. That guy who knew his name and Boogie couldn't even remember that. It was some coding they had locked away inside of him so he couldn't remember. Sort of hated that but he would find a way around it some way or another. That was the last of his concerns though, he knew enough about who he was for the time being. All he really needed to know was where his deaders were located so he could capture and dismantle them.

What a funny little life he lead that did not include trust. For example at the moment he expected himself to be walking into a trap. While he did not have a super ego about his fighting abilities he was pretty confident on his abilities to stay alive. So Boogie went this route without a drop of fear. Then again these skulls all seemed to just want to rule everything. They all fought for turf and he had no plans for that. After everything was said and done the skulls would all be dead and he would not reach for power. It would be turned over to the government and hte people like it would have been normally. He just hoped that the government itself did not turn out as bad as a skull gang. If that became the situation he would deal with them in the same way he dealt with all the other skulls.

At the door he wasn't really greeted but more like allowed in without question. Boogie lifted a brow to this and stared at the girl who opened the door for a while. She didn't really give him much of a reaction. True most of the skulls knew who he was because of his past actions and some of them might have it out for him. The whole killing friends and loved ones so on and so forth but he did not care about anything like that.

The hell was the point of having a loved one in a gang knowing they are risking their lives every day? Just absolutely dumb to get all a** bent out of shape over their death. You knew it was going to happen so why cry, piss and moan about it? That's just his view on the topic. For now though he walked into yet another enemy territory without even knowing the full extent of what he was doing.

Currently the club wasn't alive or at least he didn't think it was so he walked in and sat on a couch in the lounging section. He wasn't going to really attempt much outward interaction with any of the girls just yet. Instead he was going to think. With his music dimmed down and then cut off he began this thought process and calculating things.

If she has Adio one of the tech skulls, she's got something planned. The bridge was taken and given her name no doubt he had to have done that. If she didn't have a use for him still he would be dead already. That leaves the Vampire skulls reaction and response time. They did not react to that as swiftly as they should but they were all over the hotel incident that was on the news. Lovie has taken ground, they lost ground twice and have not regained either nor are they attempting too from what I've seen. The Tech skulls at the moment are useless, their gang is falling apart if one of their opperatives is already being taken in by Lovie. That is the key here right now. He leaned back and placed a hand lightly over his mouth.

So she has him under her thumb that's easily deduced, but alright check this slice of heaven and give me a rain check. He's working for her but I doubt he see's it like that. More of a mutual benifet thing. Men tend to be like that or ones who think they have high ability to do such things. So he's a tool. One could get at her by breaking her tool but she would find another one. There has to be some sort of mental break that can be done to this girl. That is the only plausable way to get to Lovie: her mind. She constantly manipulates people through the motion of her gender and seduction but something is there that can take her down. I know there is I just have to look deeper. Men are nothing but playthings to her, maybe she's a lesbian? No that's too easy. I'm sure she likes men but we're easier to use than to actually keep around. Conclusion for Lovie: figure out her mental break. sighing he looked up at the girls working in the club and tried not to call attention to himself, which was easier said than done since him being there was calling enough attention by itself.

The Tech skull leader. He was present when my boss...my old boss was at the bridge. They didn't do anything but stare at eachother and she let him go. He did not to my knowledge try to reclaim the bridge either. Why are all of these people overlooking Lovie? I know they all aren't under her wing yet. I've got to make sure that doesn't happen. The Tech skull leader...bah I need more intel on him, but my leader is as good as dead to me. Vampire skulls seem useless too. ******** the intel that's who I'm going after" Now the real question he had as he looked around was: 'would they let him leave so easily?' for the time being he wasn't sure so he sat down and thought more on what was happening. This was all dumb none of the leaders were acting like leaders and then another gang had a drop out trying to work for Lovie. This was just stupid. There should be some sort of bloodshed by now. The gangs had grown weak and pampered in his absence. What a shame.



Weapons: The Twisted blade (Sheathed in his right leg)
Pulse hands---Inactive.


вυт уσυ ∂σи'т киσω ѕтяєиgтн тιℓℓ уσυ ¢σмє вα¢к fяσм тнє ∂єα∂.↻