AngelaDarr
(?)Community Member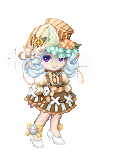 Posted: Sun, 03 Feb 2013 03:40:34 +0000
XDXDXDXDXDXDXDXDXDXDXD
Э

ato

Ӈ

emmingway
Some came in chains
Unrepentant but tired.
Too tired but to stumble.
Thinking and hating were finished
Thinking and fighting were finished.
Cures thus a long campaign...
Cato eased his powerful wings behind him like a massive onyx cape. His aching back cried out in bitter vengeance at the repeated abuse he put them through. Yet, Cato stood still in a carefully maintained, commanding and erect posture. They had work to do....judging by the gathering curtain of clouds in the sky, they had little time. He turned to face the two laying on the ground. Both stood up: he opened his mouth to speak and stopped short. Lys stepped forward, her small frame trembled in a chill wind that rifled through his own ebony feathers. Her large Bambi eyes glistened with intense sadness; gripping Cato suddenly...He forgot everything that just happened in an instant. 'what was wrong?'

Lys blurted, "You aren't in the way. You feel I'm in the way. You and Avianna both. You fly away from me when you talk, you scream out that you don't want me reading your mind or that I should stay innocent. You're the one pushing me away. You don't want to have fun with me. I'm getting in your way." Cato listened, unblinking in a seemingly unfeeling blank expression 'No.It wasn't her....Not the way she projected it..." Cato barely had time to think before she bolted past him like a startled fawn. "Lys." He reached out to stop her, but he wasn't reaching to get a grip, and she plummeted right by his outstretched fingers. Her large berry basket, nearly as big as her whole torso, swayed violently behind her rapidly moving white dress.

For Lys to think that he would be angry was natural. There was nothing more frustrating for a man, especially one like Cato, than to have someone bring up an emotional conflict, especially a private one, blurt it out, and then run off before he had a chance to fix it. After his initial shock lifted, his brow furrowed downward in a pained expression. Only his head moved to follow her fleeing charcoal hair as she darted across the lawn. He was a problem solver, not a 'feeler'...What was he supposed to do now? Avianna rested her hand on his shoulder, and said, "Get breakfast ready, I'll be right back."

Cato nodded, and watched as she flew after their friend. Her powerful wings glowed angelically in the sun. 'Good. She was more than capable of speaking for the two of them. A nurturer by heart; she would know what Lys needed, and be capable of giving it.' Cato's emotionally expressive energy diffused after that hug. Even his attempts to get Lys back seemed half-hearted…either that or cold and disinterested.

Cato placed his hands on his hips, willing away the frustrating fatigue that crept into his bones. He liked to keep his emotions and thought processes as separate as possible, so he could think clearly. His busy mind poured over past events to find out why she ran off: what really happened to cause this, what she was really wanting, what he was and wasn't responsible for, and how to fix this.

First, it was against her nature to be confrontational. Secondly, judging by her response, she had been holding that pain in for some time. She was shy and that fact supported both premises. Thirdly, she was trembling: it seemed more like fear then not..the breeze was more of a relief than something of torment, as unusual as the breeze was. Lastly, he was a known disciplinarian... The only logical thing he could conclude was that she ran because she was afraid of what he would think. She must have felt cornered, like she had to throw out her two cents an run. . Either way, she should have known by now there was no reason to run. He'd never mistreat one of them. He didn't yell at any of them very often, so when he did it was a big deal...

Almost immediately, Connie softly stepped beside him. "Uhhh....well the fish is inside, I just cut it up for all of us to share..." Cato's thoughts were temporarily interrupted by the presence of the other mutant male. Yup. He'd almost forgotten. Avianna could be seen in the distance, swooping after Lys. The light breeze that blew when Lys approached him picked up again, it was difficult to tell, but Cato's feathers were ruffled. He tore his gaze from the horizon and turned inside, expecting Connie to follow. Sure enough the fish were neatly stacked in a bowl on the well-worn, and slightly saggy counter top. They would fry up quickly on the hot bed of coals they had ignited earlier. He picked up the bowl and headed outside, without so much as a word to the other male. It didn't take long to prepare the fish to fry and soon they were at a nice simmer. Cato's stomach growled at the sound of popping searing flesh. He stepped toward the fish trap and pulled out the small animal he had caught for Lys.

With ridiculous ninja-like dexterity, Cato whipped out his hunting knife. Two deft strokes prepared the animal for gutting and skinning. He hummed mentally as he worked. The melancholy tune sped up tempo with unnatural cheer as he worked: like Dracula singing a dirge. The realization of the fact that he was skinning an animal and humming funeral music tickled his dry sense of humor, at least temporarily....

Was he wrong to 'block her out?' There were some things that happened to Cato, things the others did not experience. He just wasn't ready to face them again. He knew it wasn't not entirely. The way Cato saw it, there were two factors going on. Lys was growing into her powers, and Cato, well he had some of his own problem to handle... Obviously, he could be less secretive. But Lys had to grow too. She had to learn that sometimes people had their thoughts, and they weren't ready to be shared. It did not mean that he was shutting her out, or that he was hiding them from her. He needed time. In Avianna's case, she just needed a moment with her best friend.He was secretive by nature, despite Jeb working hard to help him with that...being more personable, Cato often thought he hadn't really changed, at least not the way Lys needed....Could he? He did know for a fact, he needed to hide his concerns less: running off the way they did. It was logically, and from all common knowledge wrong, or at least unfair. Looking back, and at all the times he had shut her out he was embarrassed to discover, he did it far too much.

The warm glowing coals beckoned him, kindling his desire to sleep. He sat in the soft grass a bit back form the fire. Already, the morning sun had dissolved the dew. Judging by Connie's furrowed brow, Cato figured he'd want to talk. "Something on you're mind?"


▬♦

OOC: I'm late gain. Getting to the computer has been impossible. I hope this won't be a continuing trend. I don't intend of quitting any time soon. Just letting you all know... I'll see what I can do to get this ball rolling again. (( I don't know if the running past Cato thing is considered to be Godmodding? I hope not, if it is let me know in the OOC or something and you have my permission to pretend like that didn't happen.))

▬♦

Outfit/Extra: Was black faded out...

▬♦

Song: Looking out for them.
▬♦