Artemyes
(?)Community Member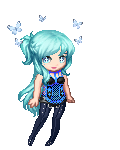 Posted: Fri, 27 Jul 2012 07:13:57 +0000
_________
c o d e n a m e :
яαмραит


______

▆▆▆▆▆▆▆▆▆▆▆▆▆▆▆▆▆▆▆▆▆▆▆▆▆▆▆




_________________

___

⊰

if i go crazy then will you still call me superman?

⊱

_________________________________

___

⊰

if i'm alive and well will you be there, holding my hand?

⊱


__________________________

▄▄▄▄▄▄▄▄▄▄▄▄▄▄▄▄▄▄▄▄▄▄▄▄▄▄▄▄▄▄▄▄ ▄▄ ▄ ▄▄▄ ▄






"

Yes, I do!

"

Ah.

... Was that right?

She seemed louder all of sudden, than she had before. Or perhaps that was just the quietness of the library making her voice reverberate about them more noticeably. Despite his less than friendly or familiar acknowledgment, she still grabbed at his shirt, trying to impede his progress. He stopped then, not because they were making a scene near the exit of the library (which they were, not that he particularly cared) and not because he'd recalled who she was either. The redhead stared at her hand, and the delicate digits clinging to the material of his shirt as if that would be all it would take to keep him from leaving. He did not lift his gaze until she had completely released the fabric of his clothing, and out of sheer habit, he smoothed it out with a cool flick of his hand.

She seemed to sense his intentions to leave still, because the girl immediately stepped into the midst of his path, to prevent him from doing so. 'Just wait a second', she said. "

... What?

" he said, an impatience tinging the edges of his tone, fixing her with a look that said he was waiting, but that he wouldn't wait much longer. It was all good and well that Mr. Troy Morison had been so compliant, but it still wasn't the best idea to linger around too long afterward, nevertheless.

"

I-I'm Maia.

"

Ryder crossed his arms, wondering if that was all she'd wanted to say. Alright, Maia. He was on the verge of asking if that was all, on the verge of just shouldering past her, but then she said something a little more interesting. She said she'd known him from back in the government. From back then, how many years had it been? This time, Ryder looked to her - to Maia with a different sort of gaze; the indifference had melted ever so slightly, and he leaned down towards her as if the closeness or her scent would spark something, searching her face with a more aware sense for something recognizable. "

Maia,

" He repeated, only then thinking that she did look somewhat.. more familiar. The slightest inklings of memory filtered through - a stark white room, a loud banging of the walls, a small and quiet voice speaking, and --

"

Yeah. Right.

" Ryder scoffed, straightening his frame to its full height again, giving a small quick shake of the head. "

As good as a person can get after all that s**t,

" he replied, at the same time curious and not curious on as to how she had ended up here as well. She didn't seem too put off, despite the fact that he had not acknowledged her as someone familiar the way she had with him; how she set her gaze unwaveringly on him had told him as much, though. And then she went and asked if he wanted to go have a drink somewhere. "

I'm kinda busy here,

" he said, though it wasn't really true; he had what he'd come for, and the others knew that he'd return whenever he did - with their prize in tow. He laughed a short bark of a laugh though, at Maia's last words. "

You sure you got that right? There ain't much I could've done to make it 'okay'.

"

He would've said more, but something was bothering him. Ryder was not quite sure just what it was, but he knew something was up. He was not the type to question his instincts, which bordered somewhat on that of an animal's, and right now they were telling him to be wary. Attention diverted, he glanced into the library again with a bit of a puzzled frown.

"

... Huh. The hell?

"

▅ ▅▅ ▅ ▅▅▅▅▅▅▅▅▅▅▅▅▅▅▅▅▅▅▅▅▅▅▅▅▅▅▅▅▅▅▅▅▅ ▅▅▅ ▅ ▅
⊰
i really dont mind what happens now and then, as long as you'll be my friend at the end
⊱