Prinzack
(?)Community Member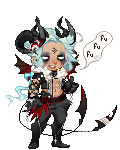 Posted: Sat, 05 Jan 2013 03:23:38 +0000

xx

»

L є α г

xx

W α l к є г

xxx

| |

xxx

Sangria ; bar


_______________________________________________________________
Saturday evening, and not a soul in sight. Lear sat alone at his bar and stared blankly across the room with half-lidded eyes, wondering where the usual hustle and bustle of the weekend went. His fingers drummed along the hard counter, and the steady beat was all his ears could pick up as he waited. While he didn't mind the silence--in fact, he found immense joy in it--Saturday evenings usually made up the peak of his earnings. Not only that, he'd blocked off this entire evening in order to devote himself to a busy night, just like every other Saturday. So now what? He didn't want to just lock up and leave. After all, what if the usual patrons were just running a little late? That was always possible.

Tap, tap, tap... His fingers continued to drum a steady beat, too agitated to rest in his lap.

"

I'll give it fifteen more minutes,

" he muttered to himself, glancing up at the clock. "

Just fifteen more minutes...

"

As the minutes rolled on, Lear decided to pour himself a drink. It was unprofessional, to say the least, to drink on the job. But he was a damn bartender. He owned the damn place. And it was about time he enjoyed his own goods. Hopping over the counter, he pulled out a bottle of whiskey and a small shot glass. He tipped the bottle and watched as a small trickle dropped into the glass, careful not to pour too much. Someone could walk in at any moment, after all.

With a swift movement, he downed the shot and squeezed his eyes shut as the burning liquid traveled down his throat. He never did like whiskey--Never understood why anyone else did either. Even so, as he took another glance at the clock, he poured some more of the liquid into his glass, this time giving himself a more generous amount.

Just fifteen more minutes, he thought.

_______________________________________________________________