Rushien
(?)Community Member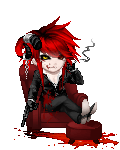 Posted: Fri, 30 Mar 2012 23:18:13 +0000

Vermillion raised an eyebrow as a young boy approached him. He was dressed in a fine suit, and presented himself quite well, even offering to take Vermillions coat. But no, that was not what had made Vermillion curious. He was human. Vermillion turned his head towards the boy slowly as Chole made herself known.

But curiosity has its way of gnawing at you until you give in to desire. His next movement was barely visible to even the most skilled marksman. He was agile, quick. Vermillions hand wrapped firmly around the boy's shoulder, while the other grasped his jaw, turning his head to study each side of the boy's face, and to look for any bite marks along his neck.
"Are you Chloe's new Pet?" He asked the boy curiously, leaning in closely to look at his eyes. The concept of personal space was completely unknown to Vermillion. He liked to keep it that way.

His eyes darted briefly to the beautiful Chloe as she scolded him for kicking her door. "Door handles are far too tedious. A curiosity I care not to deal with at the moment." He looked back at the boy he held and shot him a brief half-smile before releasing his fingers and turning his attention to Chloe. "But you are right my dear, I will not be here for long." He took a step towards her." Business as usual." He slowly removed his hat, placing it against his chest and took a sturdy bow towards Chloe.

"Would you preffer to talk somewhere more, Private?" His eyes darted towards the boy. "Or does your pet not need a sitter?" The subtle hint of mockery coated his voice, accompanied by the corners of his mouth ticking upwards for a brief second.

It gave Vermillion great amusement in rousing emotions from both vampires and humans alike. Everyday it was an experiment that never seemed to bore him. Vermillion placed his hat back onto his head, adjusting it appropriately, and brushing down his vibrant red hair before following Chole to to the chairs in her living room. He took a seat in the closest one while his companion remained stationary at the door. He wouldn't be long, he knew that well enough. But perhaps Chloe would have something useful on the Ghoul he was trying to track down.

He needed something to entertain the vampires, keep the young Ancilla and childe's busy enough that they did not make difficult mistakes. The masquerade was an important facade to maintain. It kept their lives comfortable, and the chaos of the inquisition at bay. But there was no way he could accomplish something like this with some Ghoul attacking vampires for their blood. It was an embarrassment, and something that needed to be dealt with immediately. Vermillion was not intent on wasting time. The less known their weaknesses, the better.

"I'll skip to the point, Chloe. We are tracking a Ghoul, and we'd like to know if you have any information on him. Idealy, his location."

Location: Chole's Suite.
Activity:

Asking Chloe D'clare for a favor