Unlit Flame
(?)Community Member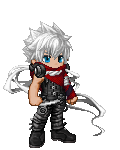 Posted: Tue, 27 Mar 2012 01:00:12 +0000
▄
▄
▄
▄
▄
▄
▄
▄
▄
▄
▄
▄
▄
▄
▄
▄
▄
▄
▄
▄
▄
▄
▄
▄
▄
▄
▄
▄
▄
▄
▄
▄
▄
▄
▄
▄
▄
▄
▄
▄
▄
▄
▄
▄
▄
▄
▄
▄
▄
▄
▄
▄
▄
▄
▄
▄
▄
▄
▄
▄
▄
▄
▄
▄
▄
▄
▄
▄
HOW LONG WILL THIS TAKE
HOW MUCH CAN I GO

x

T H R O U G H
x
MY HEART, MY SOUL ACHES,
x
I don't

X

k n o w

what to DO!
WHEN ALL HAVE LEFT ME

AND HOPE HAS DISAPPEARED, YOU'LL FIND ME

x

H E R E
Viktor dodged a demon's attack at him. Lately they had been getting harder to kill. No civilian he knew was around the area he was at, but he had found a demon anyways. A rogue demon, not one of those fancy ones of which actually knew how to speak English.
"Jesus, just when you think they can't get any smarter."
He commented, raising his sword to block and attack.
"Woah, there, slow down."
He had been so busy thinking that the demon's long claws had slashed his shoulders. By now you'd think he couldn't feel the pain. After all, he'd been doing this for a while. That was just the thing. Viktor could not feel pain. Or more...he was insensitive to it. However if the wound was not tended or he let himself bleed carelessly, he was to die like any other human.
"When in doubt...run the hell away!"
He exclaimed. There was no way in hell he was staying in an alleyway alone with a demon. Despite how serious the situation was getting, Viktor loved playing games with these demons. Not everyone had faith in him as the leader. Those closest to him knew he could kick behinds. To the normal civilian eye, he clearly looked like he was
running away
. Which was indeed what he was doing. But he was bored, and these demons were getting boring!
"Die,, die, die!"
He shouted over his shoulder just to annoy the demon chasing after him. How ridiculous he must look. He could care less though. Demons, even humans, lost control of their 'cool' whenever irritated, Viktor was merely giving this creep some exercise so hopefully things would get a bit more...fun?
"You completely bore me."
He huffed, stopping his run and turning to face the creature. He pulled out a handgun and shot at the demon until it had disappeared. He never exactly knew what happened to demons after they disappeared from Earth. They probably went back down to hell for all he knew. And then they'd be back.
"It's like they've lost their A-game."
He muttered, sheathing the sword and placing the gun in his back pocket where he could grab it easily from. He probably looked like a next level cosplayer, what with blood dripping down his shoulder and his strange taste of 'fashion'. The eye patch was not making things better. Not at all. But it felt a little bit better wearing it. Often when he wandered the streets without the eye patch, he felt peoples' eyes on the long scar that ran down through his eye. It was a strange sight. He looked like he had been mauled by a bear or something. His eye just reminded him of what had happened to his parents. He hadn't thought that death would be a consequence of his 'gift' to see demons. He had an overwhelming hate for demons, he was surprised they didn't feel it from him Viktor could even write a bunch of books on how he hated demons but he hated writing stories just the same so he wouldn't go down that road anytime soon.
Making his way along the sidewalk, Viktor's eyes landed on a strange sight.
"Ooh! What are we doing here? Playing a game are we? Can I play?"
He asked, his one emerald-colored eye twinkling with excitement. Games were awesome. He wondered if all of the DPU found him to be strange. Viktor was extremely intelligent, he just chose not to have people look at him like he was some sort of dork...he
was
a dork though. Get to know him better and he'd be a total
a

.

ss
. His job was to protect and that was what he did. The problem was that he never stuck around long enough to make 'actual friends'. Only those who had been part of the DPU long enough actually knew that Viktor was a good guy. He portrayed 'good guy' completely differently though.
"So? No one's going to let me play...? That sucks. And here I was hoping something fun would be waiting for me after today's kill."
He clicked his tongue before folding his arms across his chest.
"Oh, is flirting part of the game? Probably not."
Viktor stood there looking like a puppy. Unfortunately for demons, he was far more than a mere puppy.
"Ooh, alot of demons roaming the place."
Viktor stated, his eyes wandering the area. He could always feel them, near or far, he wasn't sure the bad feeling would ever fade away until all of them were dead. Well this was weird. Now everyone was playing games. This was how it should be! As the naive thought crossed his mind, a serious look landed on the female next to the male demon. It was sad, none of the other humans could tell whether or not demons were
demons
. They all looked human.
┃Theme┃Mood: Playful ┃Thoughts: Are human males not allowed in the game?┃Location: The City ┃With: People!┃OOC: Crappy post D8
▄
▄
▄
▄
▄
▄
▄
▄
▄
▄
▄
▄
▄
▄
▄
▄
▄
▄
▄
▄
▄
▄
▄
▄
▄
▄
▄
▄
▄
▄
▄
▄
▄
▄
▄
▄
▄
▄
▄
▄
▄
▄
▄
▄
▄
▄
▄
▄
▄
▄
▄
▄
▄
▄
▄
▄
▄
▄
▄
▄
▄
▄
▄
▄
▄
▄
▄
▄