the NAUGHTY HAUGHTY nerd
(?)Community Member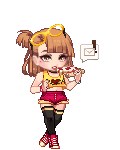 Posted: Mon, 07 May 2012 03:02:39 +0000
██████████████████████
██████████████████████
██████████████████████
██████████████████████
██████████████████████
【

☠

】
████████████
x
THE OUTSPOKEN ZOMBIE KILLER
[

LOCATION:

found a back entrance to a motel]
[

HEALTH STATUS:

in perfect shape]
[

COMPANY:

some two random guys she just stumbled upon....]
[

CRUSH:

these guys are sooo cute!]
[

OUTFIT:

what the beep do you think I'm wearing? (See picture)]




▬ ▬ ▬ ▬ ▬ ▬ ▬ ▬ ▬ ▬ ▬ ▬ ▬ ▬ ▬ ▬ ▬ ▬ ▬ ▬ ▬ ▬ ▬ ▬ ▬ ▬ ▬ ▬ ▬ ▬ ▬ ▬ ▬ ▬ ▬ ▬ ▬ ▬ ▬ ▬ ▬ ▬


It was quite dark out, yet the smoldering flames and trail of decaying zombies gave proof to the lone figure, clad in white, that humans still remained in the city where she wandered. The petite girl bent down and touched the trail of blood that left in imprint in the ground- that of a car. Probably mid-size, enough to fit five people. And by the imprint of dust in the area and weeds in the cracks of the pavement, it along with all the other cars around had been around for a long time. There were at least twenty bodies on the ground, parts of them shredded apart by some sort of machine- and by Maxine's guess, it might have been some sort of saw or any other motorized blade.

She shrugged, rising from where she was and walked away. The zombies that had been in the area somehow dispersed and she decided it was a good idea to get out of there as well. She started making her way down the road, trying to think if a place that would have some food as well as shelter. A hotel or apartment sounded good- but usually motels were around some sort of store. So, she decided to head to a nearby store to pick up a few things. Right away she saw a crowd of zombies near a motel she had seen earlier- walkin distance from the nearest convience store. Glass litered the ground and her and she knew that it was going to be hard to go in that direction without alerting the zombies about her location. She took a steady breath and looked around for some place to walk around to, and saw that the door to the convience store was open- with it's little bell hanging above the door. She hit it and a few zombies she hadn't noticed came to the door where she was perched and she cursed silently- snatching her pistol from it's pocket on her belt and took aim, her bare knees crunching the glass beneath her. She winced, feeling some shards dig into her skin as she took aim and shot- aiming at the zombie's heads as they rushed towards her. Both fell down, just short of her and she stood up hastily- shooting them both in the head again. It was always safe to shoot them twice- for your own safety.

Casting a look over her shoulder, Maxine spotted a group of five zombies look in her direction, hearing the sound of her gun and she cursed, takin aim at the zombies that came at her again- she shot her pistol when she heard the familiar clicking sound of an empty mag. She cursed again, and quickly hit the unload switch and smacked another mag in the hilt of her gun. She took aim, the closest zombie at least ten feet away and managed to hit him square in the head- while taking aim at the female who came up at her right and did the same.

She rolled to the side and onto her feet, feeling the glass dig into her skin and clothes as she did so- and spun around, shooting at the nearest zombies and making them fall to the ground. Before she knew it, five zombies- not including the zombies from the store lay scattered around the shop.

"

Jesus that took so long,

" she breathed a sigh of relief, running a hand through her long dark hair- her dark red eyes flitted to the store nearby and she grabbed a few of the water bottles that were in tact inside- along with whatever soups she could find. Anything that was in a can usually was pretty persered and some of the other things- like energy drink shots, beef jerky, and even candy were still good. Though a little hard to chew. Especially over the decades that had passed since the world was overrun with zombies. To think that the world had at least 7 billion living people on it... and now a majority of them were undead. Probably even the dead that hadn't decomposed yet were too.

The young teenaged girl, walked around, her hips swaying as she made her way to the cash register and found that most of the stuff inside of it was already gone. So any change or bills she could use for gas were no where to be found. Sighing, she walked out of the store and made her way to the hotel, picking a random room- she tried the handle of the door, with her hands full of supplies, and opened it- noticing that two males were inside of the room. She blinked as she saw that the one man, with an odd shotgun and nervous expression was pointing his gun at the other male who just towered over him. The tall male was pretty interesting looking. He has piercings on his nose and lips, along with these huge disc things in his ears. He looked like what her grandmother told Madge, as a rebel. It was odd to see that the trend was still present in this year.

"

Am I interrupting something?

" the black haired girl asked, batting her dark red eyes as she stood uncomfortably in the doorway with her white outfit with the crimson blood splattered all over her dress and her arms full of random spoils of her own person. "

If so- HERE IS A PEACE OFFERING!

" she said a little more loudly than she intended but if she acted dumb most likely the other male- Shotty as Maxine was now calling him, would most likely think her not to be a threat. Although she didn't know if Skull over there (as she was calling him because of the tattoo thing on his face) would pick up on it. If he was smart he probably did and if Shotty knew her game, she was probably screwed. But, with all the blood all over her, he probably knew she was a person to be careful around. She could act all crazy- but she might get shot and confused for a zombie... or just an eccentric person that might need to be killed. "

So lets all be friends?

"
██████████████████████
██████████████████████
██████████████████████
██████████████████████
██████████████████████