Itachi -ox
(?)Community Member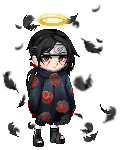 Posted: Tue, 05 Feb 2013 13:18:40 +0000
Don't quote this

Cool chapter.
One thing I gotta say. Tobirama is awesome.
I really don't care if he's a douche, or a jerk, he's just blunt, and says it like it is.
Yeah, some people are saying,
"Awhhh, I don't like him now."
Uhm. Well, so? He's blunt. The truth hurts, LOL. Who cares if people don't wanna hear the truth. That's their problem!
You know, if you wanna b***h about a mean personality, then b***h about Obito's.
If you wanna see someone cruel, it's Obito, oh, and Madara.
Obito isn't even being educational with his blunt statements... he is just being mean just for the sake of being bad.
]:< uhummmm, yeah boi bai.
Ugh! The first Hokage is so cool ):
I wanted to pee out of excitement when they started talking.
And lmao... The second is racist against Uchiha.
"They end up running wild."
A wild Uchiha has appeared.
"Awh sheittttt bruh, don't piss it off. It might kill the whole town! Sheitttttt."
LOOOOOOLLLLLLL.
I kind of was like,
"he's just gonna piss of Sasuke more... Damn."
It's so freaking insane. Uchiha are like animals.. Damn.
See, that's why Obito went off the deep end. His Uchihanessss made him cray cray.
He's still a stupid dummy b***h.
Uchiha logic:
"My love is so strong, that when my love died, I'LL ******** UP EVERYTHING, starting with the babies... I'LL TOSS THOSE ******** OUT A WINDOW."
*screamsssss*
"This love I'm living without! It's making me crayyyy. IF I CANNOT BE HAPPY... No one is happy."
*farts*
A happy Uchiha, is a peaceful Uchiha. A MAD Uchiha, IS A FAWKING EVIL TWISTED SON OF A b***h THAT WANTS s**t ******** UP.
I'm so fawking glad Itachi wasn't crazy... Damn.
I CAN'T. I died so bad.
You know, when Sasuke was like, "I killed Itachi." I wanted to punch him in the face. No, actually, I wanted to shove his face in a toilet, AND MAKE HIM DRINK IT. Dirty toilet water!
I still like Sasuke though.
Damn, it's awesome to finally know their personalities.
And omfg, when they were like,
"Who's that."
To Minato. I died.
):
I want Sasuke to find out that the fourth was Naruto's dad.
Lmao.
Also, the first... His personality, not one to expect.
It's pretty funny. He looks so serious, and yet, when he talks... Damn, the second seems more serious. Hot damn. I like that though.
The second has that, "Uchiha are vermin," Complex.
And hot damn. I really hope Sasuke doesn't flip his s**t after this.
And when Sasuke was about to cry, oh lawwwday.
Yay for a another chapter without that whinny b***h Obito!
I want The Hokages to all attack them, and beat their asses.
Obito doesn't deserve a simple defeat, he needs a foot up his a**s, and it goes so far, that it comes out of his mouth.
Obito got a stiffy, and when his love diedddd, he just went apeshit.
He seriously needs to stop fingering himself to Rin. She's not that great, k.

PS. Hashirama... wowowow, such a good influence, LOOOL.
I'll edit later.
What did you think about the chapter?
What will happen next chapter?