Valtiel the Watcher
(?)Community Member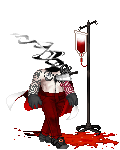 Posted: Sun, 20 Feb 2011 09:07:56 +0000
It's Just Music God Damn It, What the hell else do you need it to be?
Rules N All That:
You don't have to stick to rock and roll:
You are allowed to talk about any rock band that you want, including ones that I hate, but keep in mind that there are many
official threads
for most of the popular bands out there so you may find more of what you're looking for there.
Really All I hope you people don't do is the crap that'll get you reported anyway. You can talk about your favorite rock band, your least favorite, the fact that you still refuse to throw out your tape or record player for whatever reason. It doesn't really matter to me. I'd prefer a certain amount of respect towards each other. I'm sure there will be posts of crap I don't like but I got better things to do than to harp on someone's love of my Chemical Romance or something.
What is Rock N' Roll?
Before I cover Rock and Roll I guess I should talk about Rock which is the more broad term.... I think I'll just fall back on the wikipedia entry since I don't want to go through all the crap of looking s**t up right now.
ROCK
is generally music centered around the electric guitar generally accompanied by at least 2 other people on drums and bass. Quintessential rock sticks with a 4/4 beat utilizing a verse-chorus form, but this can differ across the various forms that rock can take. Look at the wiki for more specific genres.
Now let's go to the common ancestor that has ******** more genres than the Beatles.
rock and roll
[rock'n'roll]. According to the Oxford companion to music, Rock is "An amalgam of American white country music and black rhythm and blues: the first definitive pop music of the 1960s and 70s. It became established in the mid-1950s with Rock Around the Clock by Bill Haley and the Comets. Similar pieces were performed by white and black singers, including Elvis Presley, Jerry Lee Lewis, Chuck Berry, and Little Richard. Boogie rhythms and the 12-bar blues chord structure were combined with blues song-forms; singing style ranged from blues-derived to Elvis Presley's innovatory rhythmic treatment of lyrics. Instrumentation was slap-bass, drum kit, piano, rhythm guitar, and solo electric guitar; sometimes the saxophones of rhythm and blues were retained. The style spread all over the world. The term is still sometimes used to refer in general to Western pop music of the second half of the 20th century."
If you read all of that then I have officially wasted a minute of your life. Rock and roll, when it comes down to it, Is basically just party music. It get's more attention than it needs to because it's been crossbred with every other genre out there to make the many forms of rock we have today, and everyone as a sign of respect or something feels they have to bow down to it as the primordial ooze that all modern music
<bull s**t
crawled out of. But really in the end people forget and ignore the fact that it's just people strumming on guitar talking about love, sex, girls, boys, booze..... all that stuff that people like when hormones mess up our minds and we want to be grown up. It's teenager music, it's rebel party music. Rock music didn't get this reputation of being meaningful until rock bands of the 60's began putting political ideals into their music and 70's prog rock started experimenting by blending genres together to get some bizarre chimera of a genre. This thread is about looking past the god damned pretense and just looking at rock for what it is, music. Whether you think it's a gas or a bore, it's still music. It doesn't need to be anything else.
Ah enough of that BS, Let's get to the Music
The Roll
A few of my personal favorite Rock acts. I guess I'll add some more s**t later
Link Wray
The Fender Four
The Sonics
The Groupies
Charlie Feathers
Elvis Presley
The Shadows
The Ventures
Johnny Cash
MC5
Richard Hell
The Trashmen
3 aces and A Joker
Dale Hawkins
Dave 'Diddle' Day
R. Lewis Band
The Embers
Warren Smith
Hasel Atkins
the flower children
Ronnie Hawkins
Gene Summers and His Rebels
Jimmy Loyd
Blacklight Chameleons.
David Peel and the Lower East Side
The Doors
Hawkwind
Motorhead
The Trogs
Bill Halley And His Comets
Some samples
Alright, so rock left the party music out of the way and began finding it's place in the world. It began experimenting trying to become something more meaningful than a bunch of teenagers singing about sex and erections. It turned into this strange genre that was still called rock but had little roll left. Teens got tired of these 70's arena rock bands and decided that they just wanted to party. They decided to get their guitars together, learn three chords and play some s**t. a bunch of other teenagers saw this and loved the idea. Whether they could play or not they all played in clubs, bars, backyards, wherever they could fit a drum kit. This marked the beginning of vvv
Ah decline of western civilization is gone from youtube.
Yes going back to the way things used to be..... mostly because if it were anything more complicated than three chords they probably couldn't play it. A decade of jumping through glass and smearing yourself with peanut butter to disguise the fact that you couldn't play guitar, but no one cared about that. Everyone was drunk, everyone was stoned, why complain about it when you're having a good time slamming your face into someones fist?
A few or my favorite Rock and Roll inspired punk bands
The Cramps
X
Agent Orange
Alternative TV
The Minute Men
The Misfits
Patti Smith
The Ramones
The Meteors
The Buzzcocks
The Damned
The Dead Kennedys
Blockage
The Runaways
The Adolescents
The Clash
The Dickies
The Vibrators
The Misfits
Dicks
Eater
Richard Hell
The Untouchables
The Bags
Eyes
The Alleycats
".... I thought you said current"
... You shut the ******** up.
"no none of those bands are
People who'll enjoy this thread
... doesn't mattered you're not allowed.