I Balmung I
(?)Community Member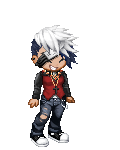 Posted: Wed, 16 Jan 2013 08:26:24 +0000
xXZirkannia
Ayin the Younger
scacchic
Is he just inherently benevolent? By God, I mean the Judeo-Christian/Abrahamic God.
Let's not focus on one particular deity, but instead let's talk about a deity which is omnipotent, just for the sake of argument.
People say, absolute power corrupts absolutely, but I think we need to look beyond this silliness.
Let's say you had unlimited power, and were also immortal. What do you do?
Perhaps you do things to have fun at first. Perhaps you start to take out aggression on people. Perhaps you build yourself up and force people to serve you. You have absolute power, after all.
But eventually it all becomes boring. Making other people suffer, at least for me, even for people I really really hate, would become silly.
So I'd want to create things to make me happy. And then I'd think, it's kind of lonely, isn't it? Being the only happy one. So I'd start to give things to people I liked, and then, eventually, everyone. After all, there's no longer a zero sum game. I can be perfectly content as well as everyone else.
To be really silly, that's to say, if I want a pony, I can have one. And so can everyone else. Anyone who wants a pony, *pop* new pony for them.
So, in my mind, after millennia and millennia, anyone who has absolute power would eventually get bored with making everyone suffer, and would end up being absolutely benevolent.
Of course, maybe I'm just batshit insane.
Although,

Time is just a concept, or a means of measurement on earth. Outside of earth (that is, in the spiritual realm) the concept or limits of time are removed, and things just "exist." Without the need to fill or waste time, boredom would hardly be an issue.
But time is also a dimension, and it is the dimension that we not only use as a measurement, but also to talk of events past, present, future.
We also can't speak with certainty of anything outside of our realm, as they have not been observed (at least, not under proper scientific testing conditions).