BabyDucklingLove
(?)Community Member
Posted: Mon, 28 Dec 2009 04:24:31 +0000
Quote:
Shop open-but meals still closed

You walk into a small pixel shop and a waitress greets you.
"Hey there!~ I'm Ducky, your server, and welcome to Ducky's Cafe!
Feel free to take a look around and let me know when you're ready to place an order"

"Also if you're looking for some free goodies, feel free to head on over to my freebie shop, ●✖Flurf✖●"


★★★

Last Updated-

1/7/13★★★

★Shop Open Again- Shop is open again, but meals are still closed. I still haven't decided whether I'll do those customs or not yet. I might do them slowly.

For people with orders still up:
I will try to make sure all orders that were placed before I put the shop in hiatus get sent. I'm not sure I'll be able to do customs, but I'll wait to see how I feel in a few days. If I'm unable to, I'll cancel the trades and send out a PM to those with customs/grams/etc.

If you have any prizes from the random number game left to claim, or if you need to claim the bump cat, or anything like that, please pm the mule





★BabyDucklingLove- "Hello! You can call me Ducky.
I'm the artist and owner of this shop.
I hope you enjoy using my pixels just as much as I enjoy making them. c:
Please feel free to shop around and let me know if you'd like anything!"





★Duckys Cafe Mule- "I'm the shop mule!
Please send all shop payments to me. c:
Be sure to label your trade when you order! Thank you <3"



★Princess Kuchiki- "Hello, I'm Yumi. c:
I'm a waitress for Ducky's Cafe and
I'll be helping out around the shop.
Don't be surprised if you receive your order through me! <3
I'm also the owner of The Pixel Princess"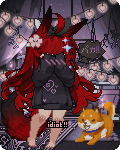 ★Sateraiza- "Hey. You can call me Kai. c:
I'm some weird person helping out in exchange for caramel pudding.
I might send your orders too.
( I was a regular & helped out some a while back too)
"

"It seems like I have some extra stuff on my hands.
Feel free to grab one of these freebies!"
Please post if you take.

"Woooooo! Winter Freebies"
V-Day freebies. OMNOMNOMNOM.
Spring Freebies c:
Credit:

Lacey texture in banners is a made by [Project-GimpBC on dA]
(Originally a PS brush made by redheadstock on dA; converted to a GIMP brush by Project-GimpBC)
Navigator:
★

Intro/Freebies/Announcements

★ Bump Prize ★ Rules ★ Ordering Info/Forms ★Menus★ What's New?★Limiteds★Customers★Links★Suggestions★Review Us★