Wizard Random Sempai
(?)Community Member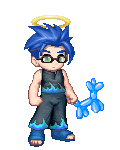 Posted: Wed, 26 Feb 2003 05:50:00 +0000
Welcome to the one and only Ask the Wizard thread of Gaia!
Your curiosity shall be either rewarded or punished by me, The Wizard Random.
All you need do is ask questions and I'll provide answers!*
Though if you're new to Gaia you really should read
THIS FAQ
before asking anything to me.
Frequently Asked Wizardly Questions
(Q) Can I ask you a question?
(A) Go right ahead, but please
READ THIS POST FIRST
. I don't like getting basic questions that can be found here.
(Q) Who started Gaia?
(A) Derek Liu, otherwise known as Lanzer.
(Q) How do I get one of those pictures in my signature?
(A) If you click on this
LINK
it will tell you all you need to know and more about making a signature. If you need a free image hoster, try
http://www.photobucket.com
(Q) is this a stupid question?
(A) No, but please check with the questions below to make sure it doesn't match one of them.
(Q) Am I annoying?
(A) Only if you answer questions haven't gotten to yet or spam off topic.
(Q) Do I HAVE to ask a question?
(A) Well if you asked that question, you just did, right? But seriously, you don't HAVE to ask a question, but we try to keep discussions on topic and polite. The Wizard reserves the right to delete posts that are nonsense or offensive. The Wizard also reserves the right to ban anyone from the thread who is being openly disruptive or attempting to answer the Wizard's questions constantly. This thread has been running for 6 years now with great care given to it by the Wizard. It will not be hijacked by anyone who comes along looking to cause some chaos of grief.
I apologize if these rules seems harsh, but I will attempt to be as even-handed as possible about such things.
(Q) Why won't you answer my question??
(A) Odds are I did and you missed it, so it's buried in the thread or I haven't caught up to the question you asked yet. This thread moves fast so keep track of the page where you posted your question then read forwards, odds are you'll see me catching up to previous questions then getting to yours. It is also possible that the answer to your question is in this first post, and if you ask it, it will most likely be ignored. Another good way to find your question skipped is if it is in an illegible font, color, or has gross grammatical errors. I understand people are human, but so is the Wizard.
(Q) How do I get gold on Gaia?
(A) These days, doing just about ANYTHING can net you gold, though some tactics work faster than others.
You get gold just by browsing, posting in the forums, and playing games. Some games, such as fishing or casino games, requite a investment up front which can pay back over time. Personally of all the games on Gaia, I suggest finding a thread that showcases well stocked aquariums and playing booty-grab. The amount gained can be hundred of gold for just 30 seconds of effort.
If you've got the real-world money to spend, you can buy Gaia cash and getting evolving items or donating directly for a monthly collectable. Both of these investments do pay off over long periods of time. I speak for experience on this method.
(Q) How do I get rare items??
(A) Well, that depends on the definition of rare. Monthly collectables from previous months can only be found in the marketplace now, the same with discontinued evolving items. Some of the more expensive shop items can still be found bouncing around as event items. Count yourself lucky if you find one!
(Q) Hey, this item is soulbound! How do I trade it? / How do I trade a ring from ZoMG?
(A) Short answer, you don't trade it. Long answer, a soulbound item is one locked to your person. (it has the little lock in the lower left hand corner of its icon in your item inventory) It can't be traded or sold for any reason.
(Q) What is your name?
(A) Wizard Random Sempai.
(Q) What is your quest?
(A) To answer the questions of people on Gaia.
(Q) What is the airspeed velocity of an unladen swallow?
(A) About 20 miles per hour, whether African or European... oh and neither can carry a coconut.
(Q) What is the capital of Assyria?
(A) Nineveh.
(Q) What is your favorite color?
(A) Blue.
(Q) How much wood could a woodchuck chuck if a woodchuck could chuck wood?
(A) Okay, well, seeing as a Woodchuck is a small mammal that could maybe, let's say on a good day, throw about a half-pound of wood at a time.
The woodchuck is a scurrying mammal that could get that half pound of material ready in say, 10 seconds, ready for chucking. Since a small mammal like that probably sleeps 14 hours a day, and would probably need to take breaks every 2 hours for food and water, lasting about fifteen minutes....
so about 3 pounds per minute, at a good clip, making about 315 pounds every two hours, including breaks, so...about 1,575 pounds of twigs on a really good day.
(Q) Which came first, the chicken or the egg?
(A) The egg.
(Q) Why do hot dogs come in packages of 8 and hot dog buns in packages of 10?
(A) 'Tis a wicked alliance that makes sure you must buy 4 packs of buns and 5 of hot dogs!
(Q) how many licks does it take to get to the tootsie roll center of a tootsie pop?
(A) THREE! Mr. Owl said so!
(Q) But I COUNTED THEM! it's over 200!
(A) You DARE nay-say Mister Owl!?
(Q) What would you do for a Klondike Bar?
(A) Get up, go to the freezer and get one out.
(Q) What's the meaning of life?
(A) Chocolate chip cookies!
(Q) Wasn't that supposed to be 42?
(A) No that's the answer to the ultimate question of life, the universe, and everything!
(Q) Well, okay, what's the ultimate question of life the universe and everything to which the answer is 42?
(A) What do you get when you multiply 6 by 9.
(Q) But that's not 42!
(A) Sure it is, in base 13 (Though Douglas Adams himself said he never intended that interpretation).
(Q) How much does (insert uncommon or rare item here) cost?
(A) Prices of uncommons and rares can be found
HERE
. It's a VERY awesome site created by a VERY industrious threadling, Tekton.
(Q) What are you wearing on your avatar?
(A) Click my avatar picture to go to my profile, I don't hide what I have on.
(Q) It that a HALO!? 0_o
(A) Yes
(Q) what did you trade for it??
(A) 15 dollars in June of 2003, worth every penny.
(Q) Why did you start this thread?
(A) There wasn't one like it here before!
(Q) what do you like best about Gaia?
(A) The friends I've made here, as well as the thread I've kept up with all this time!
(Q) Is the hokey pokey really what it's all about???
(A) If it isn't some people'd be very disappointed.
(Q) If buttered toast lands buttered side down and a cat always lands on it's feet, what happens when you strap a piece of buttered toast to a cat's back?
(A) The impetus of the cat is greater, so the cat wins. Course if this were a better world the cat would hover and spin about one foot off the ground.
(Q) Why do we park on a driveway and drive on a parkway?
(A) Just one of those odd turns of speech.
(Q) Why is the sky blue?
(A) Because it refracts and scatters the light from the sun towards the longer wavelengths, creating a blue sky.
(Q) What color does a smurf turn when you choke them?
(A) Purple.
(Q) Hasn't Wikipedia made your job obsolete?
(A) Not really, I have yet to see Wikipedia come up with puns powerful enough to cause divine retribution.
(Q) So what's going to happen in the year 2012, with the whole "Mayan calender thing?" Is the world going to end?
(A) The world will not end in 2012. 2012 is merely the end of the current age. There will be a paradigm shift in the way civilization, as we know it, exists. However you choose to interpret that it your choice.
(Q) So when WILL the world end?
(A) About 4 or 5 BILLION years from now, when the sun will have used up nearly all of its hydrogen, it will expand to become a red giant. At this point the Earth will be rendered either into mere atoms, or be blasted to become a lifeless rock.
(Q) ((Random nonsense hypothetical)) How many pancakes would it take to shingle a doghouse if ((modifiers on the pancakes and the doghouse))
(A) I would not suggest shingling any doghouse with pancakes. It tends to attract birds.
(Q) Why?
(A) Because
(Q) can I get gold/items from you?
(A) if you tickle my fancy enough I may just honor you with a prize, but you have to EARN it. I used to say I'd give out 1000 gold a week, as a prize, but I've decided now to only give out prizes on a case-by-case basis.
(Q) Can I be your apprentice?
(A) I'm not taking apprenticeships at this time, but one day I may after I formulate the worst test the worlds ever seen, until then, if you hang about enough you can earn the title of "threadling" as doled out by the other threadlings.
(Q) Speaking of you and the threadling you use some weird language, what does it all mean?
(A) This is a unique place, it's both a forum site and an otaku gathering place, thus people who haven't seen too much anime or have never posted on forums in the past are at a slight disadvantage, hence I now have a glossary of simple terms.
AEBO: "Any/Every Body/One." This tag, when placed on a question means that it's for general discussion and not just meant for the Wizard to answer.
Glomp: A flying tackle hug.
Domo-kun: He's the brown guy with big sharp teeth. He now shows up at Target stores, which is why Gaia took away the smiley of his likeness.
Bump: To post on a thread so as to make it appear first on a listing of threads on a forum, when a thread is posted upon, it gets sent to the top of the list, and slowly "sinks" as other posts are made on other topics on the same forum board.
Sticky: A type of topic, one that never sinks past a certain point in the list of topics on the forum board. This thread was once sticky, but due to an odd problem with thread names, it lost that status long ago.
Plushie: A stuffed animal representation of someone or something.
(Q) What do wizards do in their spare time?
(A) Work mostly, which is the one reason why I'm not answering questions 24/7, well, that and sleep.
Course, I do I like silly things that spark my interest, here's a silly webcomic, but I'm married to the girl who draws it.
(Q) What's with those code thingies at the bottom of a lot of people's signatures here?
(A) that's a "geek code" for this thread, it shows how devoted you are to this thread, created by Shadowstar, who's a great person!
The basic code, as introduced by Shadowstar breaks down as follows:
If the code says:
QAT Wiz:+++* Wgift:+!>$ Wquest
confused
(-)@ Wgive
My new wiz code says
Questioner of all things. Wizard-thread resident -- I'm older than the Wizard, and I have answered Wizard questions! I own a FFBP. I have received between 0 and 500 gold. I guess I'm not as amusing as I think. Wiz gave me a rare present! But someday, I hope to say I make my Gaian living off of asking questions. I ask weird questions that have no answers. Sometimes I ask questions that are in the FAQ. Bad Llama. But it varies. I haven't given the Wiz anything. I suck.
Wiz:+++*
++++: I am the Wizard!
+++: Wizard-thread resident -- I'm older than the Wizard, and I have answered Wizard questions!
++: Fangirl (or otherwise titled) -- I have answered Wizard questions!
+: I hang around the wizard thread more than my classes/job
: I've hung around the Wizard thread, but it's no big deal
-: I asked a question once, but he didn't answer it
--: I think the Wizard is evil, but I'm not that concerned
---: I have spammed in the Wizard thread! Mwaa hahahahaa!
----: I spammed the thread many times, and I keep coming back! You will never defeat me, evil Wizard! No matter how many gate guards you get! I am the ANTI-WIZARD!
*: I own a FFBP!
!: I have read all the pages in the Wizard thread (booya!)
heart
I am SuperJen.
Wgift
+++: I have gotten over 1000 gold from my good buddy the Wizard
++: I rule, and have gotten between 501 and 1000 gold
+: I have received between 1 and 500 gold. I guess I'm not as amusing as I think.
: Wiz hasn't given me any gold. Do I smell?
-: I have begged the Wizard for gold, but he still didn't give me anything.
--: Hell, I KNOW he's rich! Why won't you give me gold!?
---: Damn that Wizard. I'm trying to hack the site to steal your gold now...
!: Wiz gave me a rare present!
$: I make my Gaian living off of asking questions.
Wquest
+++: My questions are always insightful or amusing. Wiz said so!
++: My questions are always insightful and amusing. Wiz just doesn't have a sense of humor!
+: My questions rock!
: Questions? I don't need no stinkin' questions!
-: Sometimes I ask questions that are in the FAQ. Bad Llama.
--: Do you eat spam, Mr. Wizard? Here, have another mouthful!
?: I ask weird questions that have no answers.
*: I ask random questions, like... "given a teacup in a tempest is full of holes, how much do you love SuperJen?"
Wgive
++: I have given something to the Wizard, and he accepted it.
+: I tried to give the Wizard something, but he just kept rejecting my trades. Why, Wizard, why!?
: I haven't given the Wiz anything. I suck.
-: Give? Isn't this the thread where he gives ME stuff?
*: I tried to give him something in real life... I'm not telling you what... that's our little secret, Wizard Random!
WScept:
+++ I donated over 20,000 tickets...what was I THINKING!?
++ I donated Between 10,000 and 20,000 tickets. It's more than the wizard expects!
+ I donated between 1 and 10,000 tickets. He needs help.
- I donated no tickets at all. He's rich, he'll get it on his own!
-- I begged HIM for tickets!
S++ I've killed spammers before they spammed
S+ I've destroyed the hopes and dreams of spammers
S I don't respond to trolls
S- I am a spammer, and you can't stop me. Nah nah!
S-- I actively encourage people to spam in the wizard thread by telling them they get more gold for posting to longer threads, and there's nothing you can do about it. I am on a mission to cure world hunger with spam!
You can append additional info to the end based up your topic of inquiry, such as:
QAT - Questioner of All Things
QS - Questioner of Science
QP - Questioner of Psychology (and so on)
αω -- I was here at the beginning, and I was here at the ending.
*: There is no guarantee of correctness or that I'll even get around to answering, but I'll at least try and do both.