duskcat
(?)Community Member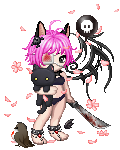 Posted: Sat, 21 Apr 2012 04:23:48 +0000
Tawni Skye
duskcat
Tawni Skye
duskcat
Tawni Skye
I find the anime was worse for it though. The fact that it's animated put it on the edge of being own-right scary. Nearly traumatized my friends little bro, haha. Mad Baby is definitely not easy on the psyche.

Well, it's kind of the only arc though, haha. The other parts aren't really long enough to be considered arcs in my opinion. But I was on the edge of my seat the whole time! It was so intense; I loved it. Especially for the Nightray development. But I can tell why you hated it, haha. wink

He's quite adorable, no? I love when he shoved that plate in his mouth, haha. So cute! Everytime I have candy I just wanna give it to him. Exactly, I don't relate at all with Gil, I just think he's smexy. Although I've been starting to develop a thing for Vince, and so the bad-guy streak continues! Every single series I get into I always like the bad-guy. -___-
Although I still can't figure out if Emily is a living thing or not. It's confusing.

Mad baby = thing I would NEVER like to see again, ever. XP
It really is, I mean we had the first few chapters, then there was Cheshire's mini arc, then more events, then the Headhunter. I loved it too, even if I hated the end. Not that it was a BAD ending, but it was horribly painful for me to see my favourite character die in a terrible way, and the character I identified the most with go completely off the deep end. TwT
He's a cutie! I want to hug him and feed him sweets! <3 Gil is VERY smexy indeed. I lurv me some Vincent, I enjoy bad-guys quite a bit myself, and he's just a really fun character! I also happen to enjoy his brother complex, quite a bit. ;D
That is probably the only time in any manga/anime series that I was trying to get away from the screen, rather than closer. Scariest thing ever, comes back in the anime at the very end too; like 15 of it.I almost cried.

You never know though, it still seems fairly early in the series; Elliot could still have a role, I mean that series makes no sense. smile

I know right? Those genetics... I want them for my offspring. I absolutely adore how everything Vincent does is for Gil! When he told Leo that he wanted "To give Gil a world without me," I burst out crying. I just wanted to hug him SO bad, it was insane. I'm very curious as to whats planned for Leo though(I must admit that his new look suits him however). It's funny, sometimes I swear I'm more interested in the side stories than the main plot. xD

Haha! It didn't scare me as much as I thought it was gross and I wanted it to leave! XD
Eh? I think the series is getting closer to the end actually! But, while I don't see him ever coming back to life, if he came back as a spirit and hugged Leo, I would be very happy. <3
Your babes would be drop dead gorgeous with those genetics! (How they ever could've been abandoned shocks me) So do I! I loooove his insane devotion. I was already crying because of what was happening to Leo, and Vincent's line didn't help. Both of them need serious hugs! TwT I'm actually more interested in the side plots at the moment. XD I still love the main story, but I really want them to get back to Leo! His hair cut reminded me that I cut my bangs recently, so that they were no longer covering my face, and everyone likes how they can see my eyes now. XD
I don't think so, there's still a lot that could happen, there's a lot we still don't know, about everybody. But then again with how incredibly long the chapters are; I wouldn't be surprise either way.

I know! If I were their mum I wouldn't be able to put them down! They were so adorable!
I can imagine, I was on the verge with Leo's situation(and I'm not a even a fan of him!), it's all just really intense right now. And I mean really intense. I can see the ending being one big giant love-fest for everybody.

Haha that's pretty funny actually about your haircut, coincidence much?
Personally I want to see more Echo. She's so cute, although I'm not a big fan about Noise.

That's kinda why I think it MIGHT end soon, that and they seem to be reveling the main secrets of the series. But then again, there's so much time between each release of each chapter, that even if there were only a few chapters left, we wouldn't see the end for months! XD
There were by far some of the cutest little kids I've ever seen! I don't I would've been able to bear to see them cry! Weather or not you like him you have to admit, Leo's situation is awful. I wouldn't mind it ending as a big love fest, with all the s**t everyone's gone through, they deserve to be happy.
I have a lot of coincidences with Leo, actually. That's probably a bad thing.... XD I would like to see more Echo as well, she's adorable and we haven't seen much of her lately. I'm ok with Noise, I don't adore her/him, but I'm not a hater ether.