jellybunnies
(?)Community Member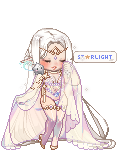 Posted: Wed, 02 Jan 2013 03:59:36 +0000
This is the first time I've been in this forum, so first off...hello everyone!
4laugh
Now, I've been watching and adoring Lolita from a far, ever since I was about fifteen. Now that I'm an adult, who can buy my own clothes and the what not without having to go through my parents...I finally have a chance to get into the fashion!
...Issue is though, I end up spending all of my money on video games and I end up hating myself for a good long while after it.
Now, looking at the fashion from a distance, I know how pricey it can be. Sometimes the price tag makes me want to cry!
gonk
I've been considering on buying replicas and make most of my closet from BODYLINE as well. (I don't exactly have $300 to spend on a JSK alone...)
So I must ask you LF;
1. Any pointers on how to get myself actually INTO the fashion? (And how to keep me from spending my money on games to do it?)
2. Would you say that BODYLINE and replicas are a good way to go for someone just getting into the fashion?
3. Any words of advice in general?