Black Lust Perfume
(?)Community Member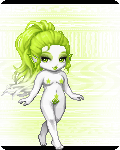 Posted: Sun, 27 Nov 2011 15:34:45 +0000
Lady Leopardess
Black Lust Perfume
x_Diamond_Kisses_x
I feel bad for them and it makes me sad. But it makes me happy to see them smile, they deserve happiness.
it is actually VERY annoying when someone feel "Sorry" for us and we dont need anyone feel bad, we are happy in different ways.
There's not too many disablied gaians I don't think at least. As a legally blind person I've gotten that too of people feeling "sorry" . Sometimes I think it's because they are not sure what else to say . It was usualful for some of reccomendations though because they'd saw how "inspirational " I was and such. lol
For some reason people seem to sometimes think that if you're blind then you're hearing impaired/deaf too. o_o;
Anyway I used to go to a camp for deaf and/or blind kids . I tried to pick up ASL, but didn't really get to. Although I know a couple words. I haven't gotten to chat with any of my hearing impaired friends in awhile. :/ (twas a long time ago)
Ahh interesting, but please dont label us Hearing Impaired, that is somehow insults us deaf community.
If you dont pick it up enough, maybe you wasnt even interested enough to learn their language to help them better.