Krasnyi Senshi
(?)Community Member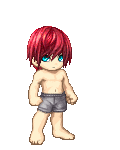 Posted: Tue, 01 May 2012 06:56:19 +0000
Alright, short disclaimer; this is a pretty cheese-tastic post viewer discretion is advised. Also note; that I am on the internets, resisting a troll is as easy as not reading their post. There ya go.
NOW THEN! All side bullocks aside how about I get to the facking point eh?
My first question is
; Do you think it's strange/ unnatural for a guy to set his standards high for a suitable lady?
For example, I've set my particular standards so high that I've eliminated about 95% of the populous over here. a very
VERY condensed
list of things that hit my
"NO"
category are; overly clingy girls, girls who can't hold an interesting enough conversation, lack of a sense of humor, unable to stimulate me intellectually (seriously, I don't care HOW sexy she is. If she doesn't have a basic grasp of general knowledge It turns me off big time), Gold diggers, illiteracy, braggers, overly quiet/shy girls, drama queens, ect.
My Second question is ; Is it strange for a guy to be a modern gentleman?
Personally, I like to be polite, courteous and just down to Earth with people and talk to them on an even level. I also think that guys who mistreat their women or see a woman as anything less than a sex toy are less than scum. When I'm dating a girl I'm interested in I make it very evident that I'm interested and willing to invest time into the relationship. I'f I'm not then I'm just honest and tell the girl so neither of us waste any time. Even if the subject had nothing to do with dating, I just like exercising courtesy! Holding doors open for people, telling someone good morning on the bus, wishing a cashier well after I buy something. I like exercising proper manners! But it seems like whenever I watch a couple walking around the guy is the crudest, most abusive and thick headded piece of crap I've ever seen in my life!
Soooooo whaddaya guys think? Let's read the speculation yes?