Blackrose_Knight
(?)Community Member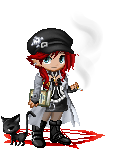 Posted: Fri, 02 Mar 2012 00:56:23 +0000
x_Silver_Starlight_x
Blackrose_Knight
x_Silver_Starlight_x
Personal values cannot be wrong. Universally applied values can, but I'm not applying these to a universal audience. Even if personal values could be wrong, I do not have any faulty logic, incorrect reasoning (perhaps it is to you, but hey, that's more of a universal assertion than a what I'm saying is), and there are no lies (only some things that people may disagree on)
Is my great grandmother's personal value African Americans are sub-human, a separate species, and therefore can be killed without repercussion (like a rat), wrong?
That's no longer a personal value (maybe a personal opinion, but not a value). It's being applied to others, and not strictly herself. And it is actually based off of faulty reasoning/lies (we're certainly not a separate species) and weird logic (even if we were a separate species, that does not necessarily mean no repercussion should occur). She's *maybe* got something with them being 'subhuman' as a personal value, but that one isn't really falsifiable or logical anyways.
Her value is she was a better human being than any person of African descent can could ever be because she was biologically human and they weren't. Science of the day told her since she had Caucasian facial features and pale skin she was human. They were not because of their larger brow ridge.
Now this is science gone mad of course, and we are all the same species. But it has a point.
I said nothing about applying it to others, but simply holding that idea and value within herself. She didn't kill any African American's, but it did not effect her psyche to hear of them dying. She didn't care; they weren't human and she went about her business.
Is she wrong to hold the value in her heart that people of African descent are not human?