ChemicaI Warfare
(?)Community Member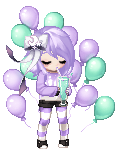 Posted: Wed, 07 Mar 2012 03:57:48 +0000
kodomokurai
ChemicaI Warfare
You had chickens? How neat. emotion_c8

Oof, your family members seem to be alergic to everything. D:

There are casein free cheeses I'm sure you're aware of. emotion_c8

In the case of your son though, feed him whatever he can eat, I'm perfectly fine with that. I personally am not against eating animals in general as I am to eating the ones that were not killed humanely.
Thank You. since we're spreading awareness, here are the two foundations for my sons disease, in case you'd like to know more.
American Partnership for Eosinophilic Disorders
CURED Foundation
This disease affects just about 1 in 10,000 children, has no known cure, and the only management options are actually medications meant for other problems. It is a Rare disease as defined by the Rare Disease Organization worldwide. These are the only two foundations, children born with this disorder have only begun to live past childhood in the last 6 or 7 years.
Having a diet that only allows you to eat certain foods is difficult but hopefully all is going well for you and your family.