Valgaror
(?)Community Member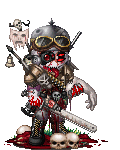 Posted: Sat, 05 May 2012 13:27:34 +0000
I'm not entirely sure if posting this is a great idea, or what I'm expecting to get from it, but what the ********.

I have been not entirely willingly seeing a therapist for some months. Originally for anger related s**t, but since then expanded to include some other things. Mainly, paranoid and antisocial personality. Secondary, resentful, isolated, depressed, anxious, aggressive, whole ******** list of s**t, most of it I neither mind nor have a problem controlling. Whatever else, I have some incredible levels of self-control. There is also s**t that I haven't mentioned or revealed that would definitely complicate things for me.

Anyway, this s**t has been "suggested" to me for a while. Nothing involuntary, but a "we think that this would be a really good idea and something you should do" now from multiple people. They're making it pretty clear that they WANT me. And I guess I've got to admit s**t's getting worse. I've blacked out and woke up on the floor no idea how I got there, for one. And some unrelated problems - one involving instability with the very few friends I have removing what "normalcy" I have currently got, another involving money, shitty job, likely having to move and difficulty finding somewhere, which is itself starting to make me wonder what other options I have. I am close to giving up, and if giving up involves either going along with this s**t or doing something stupid, I'd prefer the former.

What I would want to take care of is this ******** paranoia. It actually is a problem for me that gets in the way of s**t to an irritating extent and I'd be happy to get rid of that one. But the rest? I don't really want to lose portions of my personality because they're socially unacceptable. Not that the "serious" s**t is exactly "curable" anyway, heh. So I doubt it's relevant and I don't think I will be bringing it up to them if I can help it. Only will bring it up in this thread, as well, if it could be relevant.

So, they've been trying to sell me on this s**t. Ease me into the idea or something. Saying it's temporary, saying it's not a hospital, wouldn't be locked in, only some curfew or something, I believe? Hell, they're making it sound more like rehab except not solely for addiction. Telling me there'd be my own room, ability to lock the door, ability to take my laptop, which is about all I've got that's of any importance. So I gave in, agreed to go and look at it, at least.

But besides that I have no ******** idea what to expect. I tried looking up the place (name of which I'm not going to say here) but couldn't find anything. (Hell - sorry, paranoid - not going to reveal even general location, at all. So, if you're going to advise anything, make it as geographically nonspecific as possible, heh.)) I don't know what would be the situation for internet, and if there is, whether that would be monitored (seems ******** likely) and that I wouldn't ******** want. I don't know how long I would have to stay there if this would be considered voluntary. I know there's group s**t, which I am pretty certain I wouldn't enjoy, but what the ******** that involves either I don't know. And I know I don't want to get medicated into a ******** stupor or how much right I'd have to refuse that or anything else. Finally, they've told me I'm not going to be locked in or not allowed to leave, but... one of the things I really ******** enjoy is shooting, I suppose I could just say I were hanging out with friends without specifying exactly what we were doing, but I am guessing they wouldn't want me around guns, so ********, no idea how or if that would become difficult or impossible. Besides that.. s**t, just basics, what I could expect to do on a daily basis.

I guess I will see myself what the place itself is like. But if anyone's had something similar it would be nice to know what I could expect.