Quillissss
(?)Community Member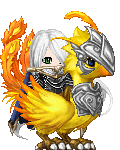 Posted: Mon, 09 Aug 2010 15:54:00 +0000
Tobias
smiled at her words, it made him happy to hear he was needed, that he could help her in even such a small way. He aided her to a sitting position, and quickly stacked the pillows behind her so she could rest back. Once settled he set the tray daintily on her lap,
"Your breakfast, Miss Victoria,"
he said gallantly, the blood packet he had drained had cleared his groggy head, and he realized that both of them were missing some clothes. He didn't stare, or blush, but managed to keep his composure and start cutting waffles to bite sized pieces. the scar on his left arm was fully visible, the almost rubbery red flesh reached nearly to his shoulder before it faded back to the pristine porcelain skin most vampires sported. He tried not to think about it, but couldn't recall if Miss Victoria had seen the whole thing before. His deformity was on his mind almost as often as the beautiful woman he was serving breakfast to.
Holly
finally reached the mansion door. She hugged the tall limp form carefully to her side, his arm still draped over her slight shoulders, and pulled them both up the steps. She was worried about bringing a bleeding person into this house, but she had precious little choice, she knew of no one else she could trust, and her whole family thought she was dead. Besides if Jack ever went back to them, he
would
be dead. The small mage pushed more of her power into his body, struggling to keep him breathing, keep his heart beating. With one hand she tried to push open the door, but it didn't budge, so she pounded on it with all the strength she had left. One, two, three, she kept pounding until the door was opened...
Penny
nodded, and hugged herself lightly as if suddenly chilly.
"I'm ready...whenever you are..."
she said, her voice was still soft, but still stronger than when they had first arrived. She had broken out of the mad cycle she had spun herself into since that horrid night. She stuck close by Vincent, behind him and slightly to the left, her arms still pulled her baggy sweatshirt closer to her body as she waited for those she saw as superior to move on. She'd been a servant for most of her life, it was habit mostly.
Tobias Perry Harper
||
Holly Kismet Archer
||
Jack Crevan Archer
||
Alexandra Blackwell Devereaux
Happy
: mood :
Loosing composure Quickly
: mood :
Unconscious
: mood :
Suspicious
Single
: status :
Single and Supposedly Dead
: status :
Single
: status :
Married
"I'll protect her now and forever."
: quote :
"What can I do with the power within me?"
: quote :
"And this is what you get for having a conscience."
: quote :
"I will have what I want."
---
: operation :
---
: operation :
---
: operation :
Tomato Sauce
Guard Miss Victoria
: goal :
Don't let Jack Die
: goal :
Don't Die
: goal :
Don't let Vincent know...
Innocent Sorrow
: theme :
Missing Person
: theme :
Wine Red
: theme :
Filth in the Beauty
Victoria Warcraft
: crush :
Figuring it Out
: crush :
---
: crush :
Vincent James Devereaux
None
: accent :
British
: accent :
British (Borderline Australian at times)
: accent :
British
---
: phone :
iPhone
: phone :
Black Sanyo Katana
: phone :
---
---
: room :
---
: room :
---
: room :
Shared
: clothes :
Black dress pants
Torn and Dirty White Dress/White Flat Shoes
Full Black Tuxedo/Black Dress Shoes/Purple Tie
Black Flutter Dress/Black Strap High Heels
Korbin Archer
Clarice Archer
Penelope Hammerstein