Color Me Fubar
(?)Community Member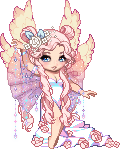 Posted: Tue, 28 Aug 2012 10:10:57 +0000
Jianna raised an eyebrow at the vampire, sitting on the desk and looking at him thoughtfully for a few minutes after he asked his question.

"My, my, you certainly are protective over her,"

she murmured, tapping her chin with a long fingernail before shaking her head.

"An hour or so, perhaps. You did break a rather important rule of ours, Nick, whatever your reasons. They're livid she has freedom and could have killed us in our sleep."

Jianna noted his accent returning and hid a thin smile. She hadn't heard it in years, since he'd started growing bored with things. Perhaps that pretty little familiar was just what he needed. She'd tried to entice him with girls over the years, worried he was withdrawing, but he'd never paid them so much as a glance, much to her frustration. She'd liked Nick since they met and had taken him under her wing. Apprenticeship turned to friendship.

Vampire or not, she wanted him to be a happy man, not holed up in his office with his antiques and forgeries. Some days she was worried he would go to meet the sun. No, she personally would forgive him this little infraction, if only because that lilt to his words was back.

"I'm not sure what to do to keep her safe, Nick. She has to see them, it's part of the rules. She has to convince them she won't betray us and with Rom already barking at them, they're inclined to just throw her over for a feeding."

Always remaining cool and collected no matter what the situation, Jianna let out a small sigh.

"Perhaps Elliot can go in with her as a sponsor, that's allowed in cases when the familiar has been turned without consent..."



Jianna trailed off, glancing to the door the two familiars had gone through before back to her fellow vampire.

"You can't let them know you care about her, Nick, or they'll rip her to shreds for the fun of it. Anyone who has a familiar knows that. Rom and Marie both have informed the Council you're threatened them over her. We're talking a thin line here, Nick. You can heal her up with blood afterwards, at least."

Because the girl was in for abuse no matter what they did. It was how the Council did it and not even Jianna could convince them otherwise.

Sitting in the kitchen and eating leftover lasagna she'd made - the frozen kind, since she was a terrible cook - Avery listened to Elliot explain what his 'interview' had been like with a face steadily growing paler.

"Why did you go through with it?"

she finally asked when he was done. The man shrugged and sat back in his chair, gesturing for her to eat some more before he gave an answer.



"I wanted to be with Jianna. Not....not romantically, although some vampires change a lover to a familiar. Just...with her. A companion is harder to find than a lover, after all."

He shrugged again.

"Vampires don't turn humans they lust for into other vampires. They're very....territorial. It's happened before, a vampire turns a lover to a vampire. It either ends in death or heartbreak in the end. So a lot of familiars mean something to the vampire, whether it's romantically or through friendship....some even change a relative."

Elliot sighed, waiting for her to finish.