MAYGUSTA
(?)Community Member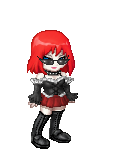 Posted: Sun, 09 Oct 2011 06:02:52 +0000
"Have you got your lunch?"
Hitoriaruki Inoue looked up from where she had been sitting on the floor packing her bag at her sister. "My lunch?" she asked, before her eyes widened on her. She groaned before sighed. "I'm gonna be late... I'm not cut out to be a ninja, am I?" she asked rhetorically, but shot a glare at Nana as the older girl shook her head in agreement, her nose scrunched with a smirk.
"It's a good job I made it for you, then, isn't it?" Nana said, pulling a bento box from behind her back. She shook it.
"Oh Nana, you're a life saver!" Ria sighed in relief. She swore to herself that she would get up earlier tomorrow and make it, herself. As much as she appreciated the gesture, Nana's taste buds seemed to favour less flavour than her own.
"I'm such a good sister," Nana remarked in one of her tones, where Ria couldn't tell if she was joking or not. She just smiled awkwardly in response.
"Not if I return the favour..." she mumbled as she stuffed the last things back into her bag. Dragging herself to her feet, she reached for the bento box, but Nana pulled it out of the way before she could grab ahold of it. She shot her sister a look a cross between confusion and irritation.
"Magic word," Nana said firmly, and Ria just sighed.
"Thank you. Can I go now?" she asked, and Nana just smiled as she handed her younger sister the lunch box. Ria pushed it into her back along with the other numerous items. Nana watched her for a moment before a rare look of sympathy donned her expressions.
"You're nervous." Ria shook her head quickly in response.
"I'm really not, she responded in defence, before patting her older sister on the shoulder and bounding out of the front door in a hurry.
"Sure. That's why you remembered a raincoat and not your shoes... Nana muttered rolling her eyes as Ria burst back in and grabbed her shoes, deciding that she should just carry them as there was supposedly no time to put them back on. She waved goodbye before racing back out again, and down the road.
"I'm proud of you Hitoriaruki... and they would be too, if they could be bothered to even look at you." She glanced over at the bookshelf, where a side-facing photo frame sat between the dusty books.

Ria bounded down the road, trying to put one of her shoes on at the same time. Ria was, in fact, early. However, late – for Ria – was anywhere between ten minutes early and on time. She couldn't stand anyone getting there before her. She supposed the kids in class must have thought she was weird. She hadn't ever said a word to any of them, and although she had forced herself to be 'average' in every subject, even those that she actually excelled in, she supposed that simply because she was there before the teacher, she must have looked like a bit of a nerd.
Sitting at the back, in the corner, had had its many advantages. For instance, she knew all about the two she had been put into a group with. Katsu Kaen had nearly failed almost every theoretical examination he had ever been handed, but made up for it in every vocational exam. Ria personally reckoned that if he spent half the time he trained for, studying, then he might have done much better, because he didn't seem unintelligent. He was just distracted by the physical side of being a shinobi. He was muscular, but in her opinion, completely unattractive due to being too muscular. At least... too muscular for a twelve year old boy.
Ria, herself, reserved training for after she had learned just the right amount of information to pass with an average grade in all her written pieces. She would read up on the stuff for extra credits the night after the exam, instead of sleeping. She didn't like sleeping at all, much to Nana's disdain. The two of them shared a room and Ria had learned that Nana loved sleep almost as much as she loved to be in the right.
She shook those thoughts from her head as she recalled everything she knew about Taro Asakura, her other team member. She could not deny that he had a lot of determination in him, but it didn't often seem to get him anywhere due to his incredible sense of cowardice drifting about, and often obscuring his view of the goal. To be blunt, he was a bit of a baby and Ria didn't like it. She had therefore decided that the space in her class, at the Academy, had been wasted on him and should have been gifted to someone far braver, and far more talented than him.
The idea of having the Kaen in her group was promising, but she didn't want that Taro boy to hold them both back. Maybe some help from a Kaen sensei would help. She had briefly met their mentor the previous afternoon, and had liked her quite a lot. She seemed intelligent and had the courage that all Kaens seemed to have. A lot of confidence. Hopefully, some of that confidence would rub off onto Taro.

Ria arrived at the meeting spot, a small opening in a cluster of trees with some training logs, with twenty minutes to spare, and so she sat down and decided to read until anyone else showed up. She had lied to Nana. She was nervous. She hadn't ever talked to either of the boys before, and had only grunted a quiet hello to Azami Kaen, their sensei. She didn't know what they were like, and as the register had said, she had been called 'Hitoriaruki' by her new sensei, and because she hadn't said anything about it there and then, she felt too awkward to now correct her. That was something she wasn't much looking forward to, still. It had to be done. She lost herself inside the world of her science book and tried to forget about the world, whilst simultaneously keeping an ear open for anyone approaching.
She also couldn't help but to worry about what they would think of her when they discovered that she wasn't the 'average' student and was actually far smarter and far stronger than she let on. Would she look like a liar? Would they not trust her? No. There was no forgetting about the world today, for Ria.