Darkest Silver
(?)Community Member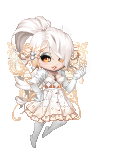 Posted: Thu, 10 May 2012 18:57:09 +0000
Jay was in a state of shock, only seconds ago she had been sliding down over the gravel surface of a mound of debris, aiming a kick to the shin of their opponent. Next thing she knew he had vaulted over her attack and was now lying dead by her feet, after hearing three more shots being fired. The woman was still lying on her back, grazed from the gravel, staring at the unfortunate soul who's life had been claimed, she never liked killing...And even though it had not been her who had ended his life, she still felt the familiar pang of regret grip her heart, it was odd for her to feel this way about a complete stranger.. Yet it could not be helped.

Her dark brown eyes were fixed on the man as she pushed herself upward onto her feet, knowing that Askold was still there too, possibly feeling the same emotion. But this was the way of Gaia, and despite the fact that this was a game, no, a sick show for the tournament competitors, she would feel ashamed of what had happened. The reality of the situation finally setting in, these spars were to the death...Only one would survive, the strongest, smartest and most skilled fighter would stand on top of their defeated foes.

Hearing Askold speak Jay snapped out of her thoughts, her attention now on the large armoured man, he had instructed her to grab the wine, as well as confirm her own desires..Which was to leave the area.
Even now she found it hard to force a somewhat reassuring smile as she looked up at her companion,

"Sure..."

She would utter as she watched him turn and walk back to the fallen truck.
Oh how she wished she had stayed at the bar, where her life was relatively safe, serving drinks and enjoying the warm inviting atmosphere.

Saying a short prayer for the fallen man before running to catch up, quickly grabbing the pillowcase which contained the remaining wine, putting her blades back into her boots before picking up the half empty bottle she had left before the scuffle. Smiling softly at William as she spoke,

"Thank you..."

was all she said as she indicated for him to follow, Jay trotted after Askold, the sack clutched to her chest with one arm firmly wrapped around it, the other hand holding the bottle which was brought to her lips every few steps.

She was scared, unsure of what else roamed around the city, she had heard yet another explosion, her eyes locking onto a building which seemed to have suffered great damage through unnatural means, more dust and rubble flying into the air before quickly being dampened by the light rain. The sound of large chunks of concrete slamming onto the road around the building echoed through the empty streets, there was no other sound to distract from it, nothing to drown it out...

Jay shivered with anxiety as she quickened her pace to keep up with her group, the two people she had been fortunate enough to team up with. But how long until they two desired to be the last remaining combatant, the winner of the game, this thought weighed heavily in the woman's mind as she continued to walk. Always sipping on the wine, trying to calm her self and drown out the thoughts with the sweet alcohol.



"So where to now?"

She would question both of the men, her words slightly slurred as she looked at each of them in turn, hoping for a reply that would consist of more than just a simple "Anywhere".