Negative_Imagery
(?)Community Member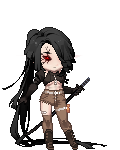 Posted: Tue, 01 May 2012 05:50:06 +0000
Contrary to popular

belief

, I know

exactly

what I'm

doing

...
Tony thought about Pepper's comment to adding to his family tree and then looked up at her with serious eyes.

"Please Pepper, you want me to trust someone then I need to trust you. Do not tell Holmes abut our... family tree business."

He told her, thinking about the smug look on Holmes's face when and if the man ever found out about them being related. It was almost like Holmes had won somehow too and that was just not acceptable. No, when the time came to finally tell the man then Tony would tell him straight up but he doubted that information would be needed at the current predicament. Especially since it would be ruining what seemed to be a slight relationship that was formed between Abigail and Holmes himself. They seemed to hold each other at arms length but there was something there, that was for sure and Tony didn't want to ruin it by basically telling them how they would live the rest of their lives.

Finishing off his beer, Tony tossed the bottle in the trash and then walked around the counter to where Pepper was. He thought about wrapping an arm around her waist was he came but behind her but he didn't. He did, however, place a gentle hand on the small of her back.

"Are you ready to head to bed?"

He asked her, moving a bit in front of her but still keeping a hand on her back. He then smirked at her.

"If you're not ready to go to bed then we can always play around until we're tried."

His smirk became a grin and he let his hand slip from her back across her hip in a slightly suggestive manner. She had only given him rules for not messing with her in bed. Technically, then were not in bed so he had free reign.

---

Abby let him take the clothes from her, blushing lightly when he kissed her cheek, and turned around, stilling sitting on the ground, and watched as he started to take off his ascot.

"Well... that was because..."

Abigail didn't really know how to answer his question about how she had asked him to entertain her. She knew the real reason was because she wanted attention from him, she liked having him watch her and pay attention to her but that was not something she could ever say out loud in front of Watson and Emme. She couldn't really say it out loud in front of Homes because she felt like a child when she had those kinds of thoughts. She bit her lip for a second and then gave a shrug.

"I guess I just wanted to have a conversation. It was kind of quiet in the room."

She said dismissively before getting up off the floor and bending over to grab her bed clothes she had picked for the night.

She kicked off her shoes and put them under the corner of her side of the bed and slid her socks off and stuck them inside the flat shoes. When Holmes started talking about how the clothes were better than what he had seen on TV that day, Abby smiled lightly as she took off her bracelets and her jewelry and put them on her bedside table for now. She was so glad that she had done something right on her first day to this strange place. Though when Holmes started to say something about a snake, Abby, who's mind was still on clothing, starting thinking about people dressing in snake looking clothing and wondered if she would get to see someone dressed like that. Holmes seemed interested in it so maybe they'd go on a snake man hunt when they were allowed to leave the house.



"People are just not like how they use to be. There were some very rude people when we were shopping today. I was quite surprised. There's no common sense and self decency either.

" She said, thinking of all the men and women she saw today on the streets that were cursing at each other in anger or just cursing as though it was a regular part of their language. She didn't think she'd get use to that. That and the sticky stuff on the streets that she kept stepping in that glued her to the ground. The resonating image of that made her skin crawl. She shook her head to clear her thoughts before getting off the bed, her clothes folded in her arms. She patted towards the opposite side of the room where another door was, luckily for her it was open and she saw it was the bathroom.

"I'll be just a minute."

She told him before disappearing into the bathroom.

---

Watson had put down the pink colored bag and was not looking through a grey bag that held some long rough clothing that were meant as bottoms. They looked kind of big for Emme so he figured it was for him. They were dark blue and faded in the middle. He wondered what they were called and why there were so many in the bag if they were all priced at two hundred a pair. He ended up finding some slacks that he was use to seeing as well as a few button up shirts. Good to see some styles had stayed. He was looking through the bags while slowly undressing, he had his shirt unbuttoned and open while he searched through the bags in interest. He stopped though when he heard the bathroom door open and Emme's voice told him not to be shocked about what she was wearing. If it was anything like what she had been wearing earlier he was sure it would be fine but she called out to him from the bathroom, telling him to close his eyes. Watson smiled at this and pulled off his shirt, folding it, and placing it on the dresser beside him.

"My eyes are closed dear."

He told her, though he knew he was lying. He was sure she was just overreacting and that there was nothing wrong with her outfit.
I

shouldn't

be alive...unless it was for a

reason

. I'm not

crazy

, Pepper.
I just finally know what I

have

to do. And I

know

in my

heart

that it's right.