MissMadHatter2009
(?)Community Member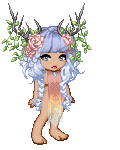 Posted: Tue, 01 Jan 2013 00:33:51 +0000

Taylor shivered underneath him as his hands traveled over her exposed skin. Her skin tingled everywhere his hands touched. She couldn't help but laugh a little. "

Not snooping…Just looking.

" She assured him with a kiss. She never ever wanted this moment to end, it was just so very perfect and she was so happy. Her life was completely perfect. She never thought this would ever happen. She even thought she would find someone she wanted to spend her life with, not this young, but she had. Even if it was totally crazy to say, or to think. She wanted Starkk to be both her first and her last.

She let her fingers smooth over his back softly, tracing along his skin softly. "

Yeah…I quite enjoy the feeling too.

" She said to him with a smile. They fit perfectly together. Like two puzzle pieces. He was hard in all the right places she was soft. Their bodies just fit perfectly together, and she loved the way his skin felt against her own. A shiver shot up her spin, as his hands traveled over her body again. She could definitely get use to this. The two of them, together. It was hard to believe that his parents would be home soon. She hated the thought of not sharing a bed with him. They might only have been together officially a week, but the thought of going home and not having him sleep next to her was terrible.

When he rolled, her legs unwound from his waist and she let him pull her shirt off. It didn't take long for the both of them to shrug off the last of their clothes. She straddled him and grabbed the blanket pulling it up around them, then she laid down on top of him, as he started to talk about his parents coming home. She wasn't so sure that she wanted to think about that yet. What if they didn't like her? What if they thought she wasn't good enough for him, and decided that even though she was pregnant with his baby they didn't want them together? She wasn't sure if she could handle that. She never wanted to be without him. Taylor was lucky and she knew it. There was this whole other side of Starkk that no one but her ever got to see and she loved that…she loved him.

For a moment she pushed the thoughts to the back of her mind as he started to speak about his parents probably not being alright with her staying at first. "

I think my mom will be alright with you staying…I mean…not like anything can happen, I'm already pregnant.

" She said with a small laugh. She couldn't help the smile that appeared on her face when he talked about the place in the country. "

Sounds beautiful, I would love to go sometime.

" She said with a smile and leaned up pressing her lips against his softly. She let the kiss last for a couple of seconds before she pulled back. "

Starkk…

" She said his name softly, her voice full of emotion. "

Your my first for everything…

" She leaned in and kissed him again. "

I want you to be my last.

" She smiled, and kissed him again, this kiss more passionate. That was kind of her way of telling him that she loved him, without speaking the words.

OOC: Click side picture, for outfit!

[/size