Devicious
(?)Community Member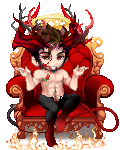 Posted: Mon, 12 Dec 2011 23:11:10 +0000
Hi all, welcome!
___
-Before you go on, people... With negative comments or whatsoever. My point of this thread is to have a discussion or a healthy debate on movies. Everybody has their own opinion, so you guys know. But feel free to share recommendations and such.
___
-This is at your risk to read or watch the movies. I am not forcing anybody to do so. What kind of movies am I talking about? Obviously it's nothing like the
Descent, Hostel or Final Destination.
Okay, well maybe a little bit of Hostel but I am mostly talking about the creepy... uncomfortable scary crap from the 70s+. Especially foreign. Heck, even the comedies can be a little disturbing! Or... something that's too close to reality, personal experience can make the movie-watching worsen, so please.. If you have one similar to the movie description, don't watch. :c I don't want to make it any worse.
___
-Truth is, I don't care if they appear to have a low rating on IMDB. Like I said, everybody's got an opinion. People either don't really liked the movie or just simply couldn't handle the disturbing scenes in it.
___
-The ones I have so far, ready to watch.. Look below. If you had seen any of them, feel free to mention it and discuss. Or a recommendation.
wink
Bold = Currently watching
Strike = Watched
1: Red Room
Quote:
Movie Review- I don't know what I was thinking. I thought the people on IMDB forums weren't serious about this one but obviously I was wrong. It is a ridiculously stupid movie I had ever watched. And to think I expect it to be decent at least since the storyline appeared to be interesting and unique. Maybe it just needs a remake... It's unbearable to watch. It isn't disgusting or anything but everything is just so bad. Dx The cast, the scenes, the settings, the sounds... The hell? I'd give it a 2 for the story idea. 2/10
2: I spit on your gave
Quote:
Movie review - Honestly, I did not have high expectations when I started this film. The description was 100% accurate on what you would expect in this movie. There is no hidden surprise or whatsoever but I must say... The gruesome scenes are quite fun but disturbing to watch. It is not the best one out there but it was slightly similar to the "Last house on the left". The acting was excellent, if you ask me. I found them to be very convincing, especially the girl character. She doesn't look like some sort of a bimbo you would see in a slasher film, trying their best to put on their horror face and get big in movies. She was decent, enough said. 6.5/10
3: 25th Hour
4: Antichrist
Quote:
Movie review -Yes, this is one of the disturbing ones. I must say... the opening was not what I expected, especially it was a little... revealing but hey, wow. Props to both of them. They were involved in the movie (The two main characters), emotionally and physically. It must have taken them a lot of guts to perform but in the end, you can't help but respect their acting skills. I have never, ever once convinced that anything in this film was a fake. Everything felt so real. Anyway, I would not recommend this to anyone who's got a weak stomach. (I had to pause a few times but I continued after I felt a bit better.) Although... As I watched, I wasn't sure what was going on at all.. But in the end, I understood. Personally, I'm not sure if I love it or not. It's right in between but it's definitively a must-see for those who crave disturbing movies like I do. 7/10
5: Bad Taste
6: Bully
7: Crash
8: Feed
Quote:
Movie review - A slow start but I was definitively pulled into it. It had a great grip effect on me to continue this movie. I learned a lot and I love it when a movie does that. Teaching you a thing or two. Anyway, it is gross and extremely informative. During the movie, it had me thinking... Are there really gainers in real life? Turns out there are. This movie almost made the feeder appear innocent in a way that you can't help but understand what he was trying to do. Truth is, he wasn't. That's for you to find out, if you really want to. Other than that, great actors, all were highly convincing and disturbing. I give it a good 7/10.
9: Human Centipede
10: Black Ice
11: Black Christmas
12: Cannibal Holocaust
___
-Discuss away! P.S... If you say, "oh yeah, this one is crap." I am going to ignore it because I'd rather see have someone share a solid opinion rather than a one line of disappointment. Never seen it and saying it looks stupid? Don't even bother until you have.
razz