Keeta Silverman
(?)Community Member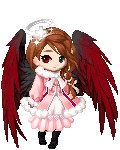 Aged Hunter
8,600 Points
150
Posted: Sun, 21 Oct 2012 12:39:03 +0000
Keeta looked around the abandoned hospital. It had been 4 years since she had last stepped foot in the aging building. The place hadn't changed much, unlike her. She had sought to get away from it all. To leave her past behind. She had tried so hard and yet, she had failed her friends. So she ran. She had changed her name, her appearance. Everything about the old her needed to be gone and done away with. And yet she found herself caught up in another fight. Yet this time along side the Vampires, not hunting them. Her heart ached when Ambrosia had come to her, asking her to fight along side them. Their kind had taken so many loved ones from her and now they needed her help?

But she couldn't say no. The dark elves, they had done so much more to her.

Keeta sighed heavily as she wiped the dust from her old desk. "Toshi. I don't know what to do anymore...."
Bloody Hell Gaia! I can't think of an event that's probably hit me harder with nostalgia than this one.
Anyways. Welcome to my healing thread. I ran a very successful healing thread back in 2007 and have decided to run one this year. Same as last time I'll be offering free sketches (this is more because I need something to bring down my stress level, job interview this week and I'm starting to panic) but I will make sure to heal as many people as I can. That was what I stood for in 2007 and I will stand for that again.
I'm not looking for Doctors or nurses. If you want to be healed post, if you want to help, then heal someone who needs it. That's all I ask. Want art? Just post. You're more than welcome to stay and chat, role playing is more than welcome, we ended up making a RPG guild based on the 2007 event so don't feel shy if you want to RP.
Please note for the art you will be getting quick sketches, every 5 pages I dunno, I'll give out something different like line art or something colored. I will try to sketch as many people as possible so please don't beg or get upset if I don't draw you.