Exhululath
(?)Community Member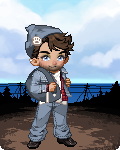 Posted: Sun, 02 Dec 2012 19:11:24 +0000
CelesaAkitaka
Exhululath
CelesaAkitaka
Another point I was trying to figure out was forfeiting. I was trying to think of a way that would work out. I know I hate being in a battle thats overpowered and I try to just not play it right away. I also had someone who if I was winning the first fight, they would back out right away. The best way I can see with this is that if someone forfeits right away (getting to before choosing if they like their hand or not...right now if u dont like ur hand twice, you can just quit) say maybe cause they just faced the same person over and over due to the time of the day, then nothing happens. We could use the bonus that after nn turns, you do get awarded your points, that way, if you are cornered and the other person is just forcing you to watch as they pink you, you can still stop them from boosting. The other part to it though, if you quit under the nn turns, there should be some penalty to it. I think this works out because if someone is losing the first battle, they won't want the penalty and will have to still play for nn turns. You don't know what may happen in that gap of turns and something may go your way. As for quitting early. I don't know if there should be a counter to it or not, but if u quit under nn turns after deciding to keep or change your hand, maybe have the penalty of not earning points the next game or for xx turns the next game (I'm saying xx cause I don't know how many turns, but I don't want it related to nn).

I'm hoping to encourage playing the game and giving every game a chance. It's tough now to sit there and know you're going to lose, but at the same time, it's a pain to get the upper hand on a first battle, and if the battle isnt going their way, they can quit and the winner gets nothing.
About forfeiting, I'm going to repeat just what I already wrote in this thread: it must be treated as a win-lose situation. The player that forfeits loses, the other one wins. Essence prizes would be given, calculated as if the winning player found the 6 portals at that point. This makes sense for two reasons:
- if you forfeit a battle in real life, you lose
de facto
;
- if you forfeit, this means you thought you was going to lose anyway.
This isn't real life though, it's a game, and it's promoting a fun game that people will enjoy. Gaia is in it for what they can earn off of this. Unfortunately some people would rather trick the system and ruin the game for everyone than to keep to the fun of it. If you let boosters boost and let those who trick the system do as they please, it cuts off a large number of players.
I'd rather see the promotion of playing the game as I don't think this would happen, but say you get paired with someone you know and want to help them win. You could just quit right off the bat over and over and that would make for very quick earnings. This system still would end up causing for time to be spent. Yeah, people could boost regardless, but still, it takes more time to do. For those who do quit all the time without consequence, they're really just causing for higher payouts to the winning side causing for inflation causing for higher pack prices. It's finding the balance of giving a reward to the winner and penalizing the person forfeiting.
Uhm, I don't know if you misunderstood my words. I know it's a game. The problem in forfeiting is that the player not triggering it doesn't get a reward. However, if someone forfeits after he played at his/her best but has been cornered, is unable to possibly win and the opponent is just trying to kill more units before winning, then it would be right if the forfeiting player still gets something. So, people can misuse the forfeiting option but it's still a necessary option since players can also go for unfair play. If you think people could start games and forfeit to just get the bonus and quickly farm essence, there're two easy options to avoid this (and they're not mutually exclusive):
- don't allow forfeit in private match mode;
- don't allow forfeit before the first battle.