XxRainflowerxX
(?)Community Member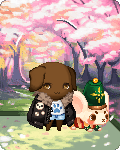 Posted: Wed, 12 Sep 2012 10:40:42 +0000
Oswin_Dalek


Every trait of his that you disliked about him is pretty much every trait that makes up a boy. Eating too much too fast, dating someone to get back at someone else, getting angry over petty things, feeling like no one understands him... In fact, those are just teenager traits, period. And I don't think he treats hermione badly at all. so what if he went out with lavender? she was the first girl to show any interest in his poor freckley face, why wouldn't he go out with her? if hermione wants ron so badly, she shots birds at him after he kisses his girlfriend, she should have told him, instead of getting angry all the time. and in the fourth book, she does what he does in the sixth book, with krum.
They're teenagers. they are gross, stupid, horny, and kind of just really bad people.

Oh, i can't remember who said that ron was a bully, so I'm just going to reply here. When, exactly, is ron a bully? other then when he was 11, and his ego was all banged up, and he called hermione a know-it-all.
Wait, so your saying all that traits that I've disliked him are the traits that
makes up a teenage boy?
So pretty much, you think these traits make up a typical teenage boy:
- eating too fast
- dating someone to get back at someone else
- getting angry over pretty things
-feeling like noone understands him
Well, then why don't the other teenage boys in the HP series act like that? Are they some kind of exception?
Harry doesn't eat too fast, at least from the books it never hinted anything in particular about his eating habits (except he dislikes chocolate after the third book), Harry doesn't date someone to get back at someone else, he never got angry over petty things. You don't see him go sulk in the corner for three days straight just because he came late to class or is hungry. And although Harry feels like noone understands him, he was a pretty good reason why.
Neville doesn't eat too fast from the books, he doesn't even date in the series, and since when did Neville have a temper? I'm pretty sure that Neville also doesn't have that why-does-noone-understand-me sort of outlook.
Seamus and Dean don't eat that fast, Dean's dated in the later books, but I'm not sure about Seamus. Anyway, neither of them apply to the above traits that you say are teenage boys.
So pretty much, the only person who applies to them is Ron. What, are the others not teenagers? Or are the others simply not spoilt brats?
Also, just to get things straight:
Hermione had a sensible relationship with Krum, they genuinely liked each other for their personalities and only kissed
once
, which was at the yule ball.
Ron never liked Lavender (he made that clear), not even from the start. The only reason why he hooked up with her is to get revenge on Hermione, they constantly kiss/snog in front of people and Hermione, just to get revenge on her and it did actually hurt Hermione's feelings. In the end Ron broke up with Lavender and avoided her completely, disregarding her feelings.
I wouldn't really compare the two of them's relationship because they are entirely based on different purposes, and to different extents.