Bunneh-Auron
(?)Community Member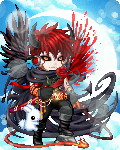 Posted: Sat, 13 Nov 2010 22:17:16 +0000
"Those who fear the darkness...

Auron chuckled heartily, his mood had taken off towards the heavens. Malice's waking and the usual sudden influx of activity the manor was so famous for had lifted his spirits. In the moment it felt as if no time had passed at all, so content he was that nothing else seemed to matter.



"It seems to me dear Malice, that your presence has awakened this dreary place."

he motioned out towards the room as he set both arms around his lover. A look of exuberance was etched into his features, pure joy radiating from his very being as he could no longer suppress another cheerful laugh. Auron pushed his lip towards her once again, planting a tiny peck on her cheek.

"I have missed you terribly, I am thrilled you're back my love."

he admitted in a whisper just loud enough for her ears.

Auron lifted his gaze momentarily, a smirk cast towards Oreo. It had been a long time since he had seen the man, especially longer since he had seem him so...sane. Lifting a hand he gave a quick wave and a nod of his head.

"It's good to see you well, it's been far too long."

he confessed.
have no idea what the light can do."