MostlyJoking
(?)Community Member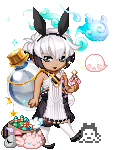 Posted: Fri, 29 Oct 2010 07:23:18 +0000
So the Jack event has come and gone, leaving a lot of us feeling empty inside (though our pockets are much more full).
Thanks to everyone who helped bring this thread up, and assisted in the many epic Jack battles! I hope everyone's Halloween was good, and that the event helped contribute to that. :]
Here's to looking forward to another epic event, coming up for the Holiday Season!
Memories
KARMA JUSTICE
is currently
OFFLINE
Up to 225,000 health
It takes a lot of time and people to defeat this beast.
Have you seen him?
Let us know!
Send me a PM with your server, and a specific location (or a screenshot), and I will post the information as soon as possible! Also, post it in the thread so that if I'm offline everyone else can see it too! Any information you have, past or present, will be helpful!

IF YOU ARE AROUND WHEN JACK DIES...please let us know which server and location so that it can be removed from the list, and so people don't keep looking for him.



YES WE STILL NEED HELP! I WILL CLOSE THIS THREAD WHEN WE DON'T ANYMORE!
Please vote for this thread <3 or </3 (preferably <3). The more <3s we get, the more people we will have, and the more posts and information will stream in.
Not enough information here? Click here for more.
What should I do?


DO NOT awaken to the Null Chamber. Someone will defib you eventually. If you do, you risk being relocated to another layer, and losing Jack.
DO NOT refresh your page. I know it sucks, but you will also risk being moved to another layer this way as well. When a layer is full, you will automatically be moved.
INVITE PEOPLE FROM THIS THREAD! This will help get us all on the proper layer.
REPORT ALL SIGHTINGS TO THIS THREAD!
Check the list directly below this for any current Jack sightings (NOTE: List is being regularly updated when my status at the top of this post says ONLINE. Otherwise, you're going to have to follow the posts in the thread.)
Share any information you have! Have you fought Jack? Send me a PM with any of the following information if you'd like to help out with the list below. The following things are important: Jack's CL and HP, Gold Get from defeating him, which town/area you saw him in and where (general location), any Level Cap, any other useful information in his behavior, pictures if you can (because we all love pictures of epic battles).
I will not be sending invites unless I am actually at the site. I will spend most of my time jumping servers and areas looking for him, and updating this thread and checking others in order to get as much information as I possibly can. If I am personally in an area with Jack, I will post it in the thread and update this as often as possible, and invite anyone that I can.
So I herd some things....


There are a number of rumors, and a number of facts. A red X will appear in front of confirmed facts

~Jack has a different HP, difficulty, and gold output depending on where you find him
X You will receive a badge for defeating Jack
~All attacks do 1 damage, so DoT rings (Hornet's Nest, Hot Foot, Fire Rain, etc) are the best options for this battle (

This has been confirmed for Otami Ruins only, with the exception of a few rare critical hits, and a number of rings which do more damage when fully charged.

)
X As of the last update of this thread, there are currently issues with some people fighting Jack and not receiving any gold or badge at the end of the battle.
X /invite is not working for most (if not all) members. Not all names are showing up on recrewt list, and other methods of inviting are glitching on and off. This could be because of the layer being so full, or lag causing people not to receive invites. Whatever the case, as of this last update, this is still in effect for many members.
~Jack appears after a certain number of ghosts are killed in a certain area on a certain layer of a server. To increase the odds and decrease the time to wait for him, start killing ghosts (which you can also get badges for).
Karma Justice original post

Add me as a friend so you can find me better. Refresh your zOMG screen if you don't see me in Otami. Chances are it took me a minute to accept your request, or the server is still catching up with it.
Open yourself for recruiting. /invite is not working right now
Send me a whisper when you get on, or post in here when you are and I will add you as fast as things will let me

It seems the layer was full when I last was there. I got DCed and moved to a different layer, and have been hopping layers since to try and get back in. I will be trying to get back into it. Until then, it's just luck of the draw I guess. Good luck guys. If I get back in, I will let you all know and invite any who ask. Invite me if you see me in your recrewt panel. If I can get back in, I can start inviting people again. Please and thanks.