Serenitybunny
(?)Community Member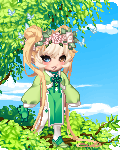 Posted: Thu, 28 Oct 2010 21:49:59 +0000
Welcome

trick

or

treaters,

ladies

, and

Gents

~

!


You are all in for a treat~!
This is a grand opening for fun, but do not be stun about who you'll going to meet.

*giggles softly*



Oh, don't mind about the old hunted house because that is the exterior design to scary away those who are not brave enough to enter through our cherry wood made doors. However, when you pass through the creaking doors, you'll see white candles in white colored lanterns hanging on a string that goes across the starry night designed ceiling. A dark crimson red and soft carpet rest under your feet. The lanterns light your way inside another small welcoming room. In front of your eyes, there is a wooden staircase that leads to the second floor.

However, you cannot go up there yet. On your right, you can hang your coats in the automatic wheeling hangers inside a large walk-in closet, but remember to pick up your ticket number for your coat or else you'll lost it and never see it again. There is not refund policy for your coat and your things once you place your items in that closet.

On your left, there is black colored velvet curtains where you should enter. Once you're inside this large living room space. On left and right side of the walls, there are full of luxurious and comfortable black colored velvet U-shaped coaches with silky covered pillows with different dark colors and the pillows are Halloween candies shaped. In the center of the room, there are small round tables with a set of five wooden chairs. On each table, a small white candle in a transparent small glass bowls light up the dark area. Near the entrance of this room, a open bar with varieties foods and drinks from alcohols, fruit drinks, tea, water, and whatever you need. On the back side of the room, a mini stage is set for our host members to do their performances for our valuable guests. On the walls, we hang our photos of our host members and their master pieces. A grand chandelier suspended up high the ceiling and holding black and orange stripes candles.


For the second floor, there is VIP rooms for those who want to spend quality time with one of hosts, but only way to gain that special pass, you'll need to collect Halloween items (given by the host or whatever the host members give out that is listed on their profile post). The more Halloween items you get, you'll get a special reward from the host or host member's ideal gift for Halloween (ex: A picture of you and your choose host member), but you must beat them in a game of the host/host member's choice.


XD

Nothing is easy to get...
Well, good luck!

Rules:

1) Only the host club members can choose whoever and whatever they want to draw.
Please, no begging, stealing arts from, and stalking our host club members or else you'll be on blacklist and not be drawn.

2) Role playing, chat, and debate are allowed, but keep it short and brief.
You don't want to tired our eyes out about a story book about your character.

3) You MUST wear a Halloween costume to be drawn!

4) This thread DOES NOT guarantee you a freebie!!!
Just post and chat often to gain the attention of the host club members.

5) Keep it T.O.S. friendly!

6) Follow the rules or be added to our blacklist!