little_boy_luke
(?)Community Member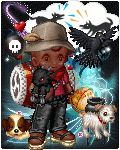 Posted: Thu, 21 Jan 2010 03:33:05 +0000
Ich_Liebe_Deutschland
little_boy_luke
Ich_Liebe_Deutschland

About Catholics being Christians:
This is a tough topic. I'm not up to date on the specifics of what Catholics believe, but I know that the center of Christianity is Christ and his sacrifice. Salvation is a free gift, and we need not, can not do anything to earn it. The problem that Catholics have here is the idea of penance. If salvation is a free gift, why do I have to do 10 Hail Marys because I lied? Christ's sacrifice covers that. Because Catholics disagree with this, many protestants say they are not Christian. I am in no place to say Catholics are going to hell. All I know is that anyone who ignores basic, fundamental teachings of scripture cannot call themselves christian.
"But wilt thou know, O vain man, that faith without works is dead?"
-James 2:20
I guesses dat you is not is Christian by you own define.
rolleyes
Nevermind fact dat penance is NOT is neccesary for getted to heaven. It neccessary for be pure enough for taked communion, but ultimate if you hab true repentance, you coulda getted into heaven without does dose Hail Mary's. By Catholic teachings:
Quote:
The Church now solemnly acknowledges that the Holy Ghost is truly active in the churches and communities separated from itself. To these other Christian Churches the Catholic Church is bound in many ways: through reverence for God's word in the Scriptures; through the fact of baptism; through other sacraments which they recognize."

The non-Christian may not be blamed for his ignorance of Christ and his Church; salvation is open to him also, if he seeks God sincerely and if he follows the commands of his conscience, for through this means the Holy Ghost acts upon all men; this divine action is not confined within the limited boundaries of the visible Church."
that quote from James is tough to hear. But the idea there is that true faith should inspire one to do good works out of thanks and love for God.
Communion is also meant to be a free gift. The disciples didn't do penance before receiving the Last Supper.
"Take, eat, this is my body, which is given for you..."
note the words take and given. It is given for
sinful people. If purity was required for communion, no one could take it. First, no one can accurately recall and identify every sin they've committed, either by commission or ommission. Even if they could, Hail Mary doesn't pay for your sins. They are already paid for by Christ's death. To ask for more payment is to minimize His sacrifice, which is given to us free through scripture, baptism, absolution, and communion.
I sayed pure
enough
, not jus' pure. You shoulda not hab tings on you conscience when you getted communion. Sins dat you don' 'member woulda not be on you conscience anyways, so I don' see what is you point in sayed dat. Jesus sayed dat if you hab sin on you conscience den you shoulda go recitify dat BEFORE gived to God.
And if you serious tinks dat penance is jus' sayed some Hail Mary's den you obvious dunno dat much Catholics. Dat 1 way cause for some tings prayer is only way for maked repentance, but priest coulda advise someone for hab other ways of maked penance.