Mistletoe Anon
(?)Community Member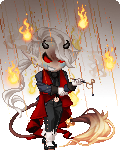 Posted: Thu, 05 Apr 2012 02:50:40 +0000
As she sets up her little camp out, the little thing can't help but wonder a few things. Why she would ever need to make such a thing...and how wonderful it was all in one. She set up plates, cupcakes and cookies with a smile to brighten up any ones day.

She finally spots you out the corner of her eye. She nearly drops her treats with the shock as she whirls around to look at you, "O-Oh!! Ummm..." she looks down at her paint covered fingers. "I-Is it okay that I make this? I mean...if not...I can go..." she mumbles.

She seems to have something in her hands...letters?



Quote:

I could try something different, just ,a little bit new
After all this is my gift, birthday girl, Just from me to you.
I know you are a fan of my words, and that is only part of my gift
After all I don't send something to just anyone who happens to be on my list
A step further, yes? Oh I will proceed
Because I will not lie, sweetheart you make me err on the side of greed
I wan't you for myself, I want you beneath my hands
I want you to give me the sweet little sounds and voice of demands
Can you see what I am getting at?
A little bit of tit for tat.
I won't make you give me everything, But perhaps just a kiss
My fingers under your shirt, caressing at your hips
How far will you let me go?
How far will you fall just to put on a good show?
Oh how I love when your pulse race, the blood coming to your cheeks
A blush of such deep scarlet, how so unique.
Now part you lips and hold your breath
I want to watch your heart flutter as I start at your neck.

Always,
Temptress



Unable to even draw something to reply to you...she looks down at her toes, a blush on her face like never before. One, she scolded herself for not getting to you first...and two, she can't feel herself THINK with such words. "U-U-Umm... I-I don't....I don't know what you...m-mean...." she said, her eyes closing shut as she fidgeted with her fingers like a little fool.



Quote:

Just a token, to celebrate the Season of Awakening!~ Cheers!~

- Salis



With a grin, almost to big for her little face, she smiles. "S-Salis you spoil me so...I shall repay you, you'll see!" she grins, holding tight to the gift you so wondrously gifted her.



Quote:

Talking excitedly with your fellow Gaians, you never noticed the young woman standing close by. She begins to walk past and suddenly shoves a red box into your hands before rushing off. You stare after her in surprise, only catching a glimpse of her red shirted back and long black and gold hair before she rounds a corner. You rush over and look around, but she has vanished without a trace. You frown and look at the box, finally noticing a note tucked under the white ribbon:

Life is an immense dream. Why toil?
All day long I drowse with wine,
And lie by the post at the front door.
Awakening, I gaze upon the garden trees,
And, hark, a bird is singing among the flowers.
Pray, what season may this be?
Ah, the songster's a mango-bird,
Singing to the passing wind of spring.
I muse and muse myself to sadness,
Once more I pour my wine, and singing aloud,
Await the bright moonrise.
My song is ended--
What troubled my soul? I remember not.

-Bittersweet Anon



As she reads the lovely note you gave her, her mind wonders so, to places with larks and humming birds a plenty. Oh how your poems take her places she misses so. You leave a lovely bittersweet memory everytime, "Thank you, I treasure all you give to me...be they bitter...or be they sweet."