Applesnax
(?)Community Member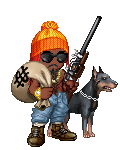 Posted: Sun, 06 May 2012 17:27:00 +0000
Bubsy
Grevioux
Bubsy
Grevioux
Bubsy
Its a menu based game that just so happens to come with a very pretty screen saver of outer space.

I say only play it if you have a very high amount of patience and absolutely adore Sci-Fi things and space ships. Otherwise you will be very, very disappointed.

I would play it if they streamline it a bit more, in its current state it feels like an ancient MMO with a very very heavy coat of amazing graphics.

IN fact, that is probably the only thing that really impressed me about it was the brilliant graphic design. Really shows the true power of PC games.

Everybody has to at least try it once.
someone never left hisec
lol
Oh you got me!
emotion_awesome
I am serious though, the game needs an overhaul.
not really
If you are attempting to argue from the standpoint that
the game in its current state makes it what it is
, then I could understand.
To me the interface is much too obtuse than it needs to be. As such, it either packs too much relevant information in a small space, or packs an insanely small amount of irrelevant info in a large area. It stems from the same problem that Blender 3D has. Its either a different design philosophy or its just bad design, I can't tell.
I am not trying to be overtly negative about the game, I actually find it to be a wonderful example of the power of PC games. Yeah I could play it, but what I want out of a Sci-Fi MMORPG is not going to be in EVE Online.
the game in its current state does make it what it is
im not sure what you're talking about in regards to the information stuff... are you talking about the user interface? ive never had any problems with it, you just need to know how to make it work for you
what kind of examples do you think need to be overhauled? i think what you're getting at is that there needs to be something like star wars starfighter as an mmo