Constipated Trillionaire
(?)Community Member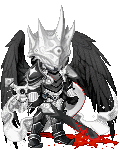 Posted: Mon, 23 Apr 2012 01:33:28 +0000
Worlds Suckiest Vendor, ComtesseNicoleDeLancret, and I have finally finished the demonic Quest!
Beelzebub's Wings:

We started the quest Janurary 25, 2012 and finished it today, April 22, 2012 Just 89 days!

____________Want to Thank a Few People____________
-
First I want to thank Endrael, they were the one who I got the smouldering helm from, the last item we needed to finish the quest. Actually found this post of theirs, from Mon Feb 22, 2010, through google:
Endrael
The Bunny
Endrael
All we monsters think we are divinely born,

I see art that is tempting me, but the avatars I'm willing to spend that much on art for are generally considered cluttered or out-of-bounds for some reason or other since they're complicated and not cutesy. Any guidelines for what you will/won't do before I plunk down an auto-buy?


our fingers pointed to heaven we direct our scorn.
No limitations. E;
Care to show me some avatars and get a definitive go-ahead?

No item list for most of these, if you're wanting that, since I just saved these and put them in my photobucket.
(with and without smouldering helm)
(not a priority, but certainly an option; did quite well in the arena with this one, considering the generic nature of it, but not well enough to place, unfortunately)
(not a priority, but certainly an option)
Glad they still had the helm
emotion_awesome

-Secondly I want to thank Kilted Giraffe! She helped immensely throughout our quest!
-lllllllllBARCODElllllllll , for helping out with components early on into the quest!
-Krissim Klaw, for preparing us for what was to come and loaning us things we needed along the way!
-Animal, for giving us a heads up on what to expect formula wise.
-II Pomy II, for donating components we needed!
-lll demon lll, for donating components we needed!
Anyone else that I'm forgetting right now, I'm know there are others! So many people have helped to make this possible, thank you to all of you!
____________Achievement____________