Camool
(?)Community Member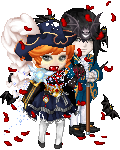 Posted: Tue, 20 Mar 2012 14:37:15 +0000
xvxblackrosexvx
Camool
xvxblackrosexvx
Camool
xvxblackrosexvx
Camool
Aww it sounds like you have a great job. smile
I wish people were less shallow when adopting pets. They always want puppies and kittens so the older animals are far more likely to be put down.
♥♥♥

☠

♥♥♥
i wish it was a paid job, but it's only volunteering i love it, we have a lot of older pets more then puppies and kittens we get a lot of cats. actually a lot of pets that get surrended to us are pets are actually around the age of 2 years old, a lot are staffys. puppies never last long same with kittens but i kinda fill sorry for the animals as i had to sit in the window playing with the kittens and it's werid having people watching you, no wonder some of the animals freak out. it's good when you find out dogs that have been there for a while have been adopted


♥♥♥

☠

♥♥♥
The fact that 2 year old staffys get sent there just shows how people think, they want puppies but when they grow up they don't want them anymore. I wish more people would adopt older cats and dogs.
sad
♥♥♥

☠

♥♥♥
the reason that staffys mostly get put up for adoption is people don't realise how cry baby and sooky they are and they hate storms/ need and want a lot of attentiion,

i grew up with one my sisters dog, he actually got put down just before christmas i loved him, he ended up having dementia he was being sooky more then normal and would freak out when left alone and would destroy the yard and wreck there $6000 couch, as he couldnt remember he was getting in trouble for doing it, as my sister is about to have another child and with a new born in the housed the vet said even though he is really good with the 2 year old he might not be the same with the new born as he won't know her, i was devasted when he got put down but it was for the best, people use to be scared of him when i would take him for walks but he was so beautiful and friendly and loved attention annoyingly so

when i did my training before i started at the animal shelter i found out that the dog that cause the most injury and attacks on children that have ended up in the Emergency Department is by Golden Retreivers but you don't hear that on the news, and a lot of the time it's the parents and childrens fault
♥♥♥

☠

♥♥♥
That makes sense, poor staffys.
Aww I am sorry he had to be put down.
Well of course it is the parents and childrens fault. People need to learn how to act around dogs.
♥♥♥

☠

♥♥♥
awww thank-you... yeah the guy who did was heading our training said this couple wanted to surrender ( put the pet up for adoption at our shelter)a 6 month old Golden Retreiver puppies because it snapped "didnt bite" just snapped at their toddler.... first off they left the toddler alone with the puppy, second they took the toddler when they took the pet to the vet and the vet went to take the tempture of the puppy and of course the vets do that via the dogs and cats buttocks and the kid saw this,

so when they left the kid alone, the kid then went to stick a pen up the puppy and it snapped at its face when the mum and dad walked back in when the shelter they explained that it wasnt the pets fault but nope they wanted to surrender it people are ******** stupid
♥♥♥

☠

♥♥♥
OMG Those idiots. Seriously people need to think about things before having children and pets. Do research, learn how to teach your child to act around animals.
Taking a toddler to see that is so moronic.
*sigh* I hate everything.