Olya
(?)Community Member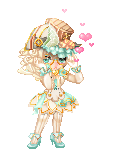 Fashionable Conversationalist
Posted: Tue, 20 Apr 2010 23:14:55 +0000
Don't let [them] know she liked [him] best,
For this must ever be

Just a reminder to everyone to stay on topic and not get this thread chatterboxed. Than you n_n
So, the new RIG is out and since our resident list maker has retired and no one else seems to be making a list, I figured I might as well step up to the plate and make a thread about it.
So, the RIG.
How to play?
Please, post your play tips or any other instructions for those who are new to the RIG game. Or, better yet, PM them to me so that I may add them. I myself will not be playing this RIG (I gave up on gambling =P) so, I won't be able to provide any useful information.
So, this seems to be a "click'n'go" type of RIG. Probability of success by stage (just in case you missed the banner):
S1 = 90%
S2 = 80%
S3 = 70%
S4 = 60%
S5 = 50%
S6 = 40%
To those who are curious, odds of winning the Encore are 6.048%
What items come from it?

Amethyst Grand Drape

Sapphire Grand Drape

Tourmaline Grand Drape

Aquamarine Grand Drape

Ruby Grand Drape

Diamond Grand Drape

Topaz Grand Drape

Onyx Grand Drape

Emerald Grand Drape

Antique Opera Glasses

Antique Nickel Opera Glasses

Drama Masks

FELINES - Cranks

FELINES - Kremella

FELINES - Monkutan

Kabuki

Aeschylus's Order

Black Swan

Icy Showgirl

Rosy Showgirl

Sherbert Showgirl

Hyde's Bloodlust

Jekyll's Morality

Mlle Butterfly

Peter Pan

Midnight Club

Condor Dynasty

The Wretched

Commedia

Court of the Elf Queen

Erik's Masquerade

Witchy

Kindergarten Play

Rotten State of the Mark

Usurper's Lament

Stage Makeup

Cerynitian's Blessing

Valhalla's Obsidian Armor

Titus
What about the dollies?

SDPlus #15 Cindy Donovinh


SDPlus #156 Mintaka

SDPlus #157 Rigel

SDPlus #169 William

SDPlus #170 Sir William

SDPlus #171 Butterfly

SDPlus #172 Captain Whiskers

SDPlus #173 Cosette
Any useful links?


Such as a link to the artwork or artists' journals, perhaps? *HINT-HINT!*

Art Guide by Le Avant Garde

Forfiet Item List by Kats Kokeshi Doll


Items made by Fayren Pickpocket [1]:
Jekyll's Morality
Hyde's Bloodlust
Commedia
Valhalla's Obsidian Armor


Items made by milkbun [2]:
Stage Makeup
Kabuki
The Wretched
Witchy
Antique Copper/Nickel Opera Glasses
Icy/Rosy/Sherbert Showgirl
Condor Dynasty
Midnight Club
Black Swan
Kindergarten Play




Items made by pepper-tea [speculation due to them being Reve Rouille's curtain recolour:


Amethyst Grand Drape
Sapphire Grand Drape
Tourmaline Grand Drape
Aquamarine Grand Drape
Ruby Grand Drape
Diamond Grand Drape
Topaz Grand Drape
Onyx Grand Drape
Emerald Grand Drape




Items made by reapersun [speculated to be done by her because she always makes dolls]:


SDPlus #15 Cindy Donovinh
SDPlus #156 Mintaka
SDPlus #157 Rigel
SDPlus #169 William
SDPlus #170 Sir William
SDPlus #171 Butterfly
SDPlus #172 Captain Whiskers
SDPlus #173 Cosette


Items made by PRISM [3]:
Court of the Elf Queen
Mlle Butterfly



Also, let me know if any link is broken or misplaced. Thank you =)




~ Links to Other RIG Lists ~


~

~

~

~

~

~

~

~

~
~

~

~

~

~
~

A secret, kept from all the rest,
Between yourself and me.