Simply Angle
(?)Site Moderator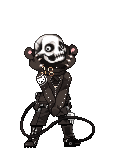 Super Phantom
11,750 Points
50

150
Posted: Thu, 29 Sep 2011 04:36:54 +0000
Welcome Welcome Welcome

In this guide you'll learn how to get a GrooveShark playlist working on your profile.

*Text Document ex: Wordpad, Microsoft Word
*GrooveShark (totally free)
*Tinyurl

Now lets get started.
Edit: WOAH! Site redesign has caused this be slightly outdated but it's fixable!
You can click this link. http://retro.grooveshark.com/

or the hard way

If you haven't already please go to Grooveshark.
Now here is the the important part we must change from the redesign to the old layout they had which can be done by
going to settings"the gear icon">go back to old grooveshark
Here is a screenshot to help a bit.






N

ow in-regards to the retro layout there is no need to join but if you choose to use the their newer layout you'll need to create an account.



Ready to find some music? You should see the search bar it'll say "Search for music" that's pretty straight forward. sweatdrop

Now have you found the song you like but don't know how to add it? Here are two screenshots to help, one for the retro design and one for the current design.

Retro Design

Current Design
You can also drag-n-drop the songs as well instead of clicking each one.



I'm assuming you've picked the songs you want on your playlist so lets move on shall we?
Next step we'll be turning your selections into the actual playlist in which I'll also be using screenshots along with the steps.

Retro Steps


See where it shows "Now Playing" then the number of songs? Click it and then click "Embed Songs"
Current Steps
Once you've gathered the songs you'd like, you'll need to save it as a playlist first. Here are the steps.
Click Queue>Save Songs>Save as Playlist or Add to Playlist.
Now click and view your playlist which should be under the Playlist section on the upper right.
Now you should see overview of your playlist you've created. Now there is a share button that you'll need to click which will give you five options, you'll want the one that says "embed".


Both will bring up options for like the size, color(s), etc..., You'll see the "Copy to Clipboard" or "Copy" click it now open up your text document of choice and paste the code that you copied, I'll be using a screenshot to show what you'll need to do.

Retro: Code Code Code - Links to Image, helps reduce page stretching.
Current: Code - Links to image to help reduce page stretching.

Now that we have the correct code we need to copy it and head over to Tinyurl,
now paste that code we copied into the space and click "Make Tinyurl!, now you have your tinyurl!

Now with that just go to your profile and place it in the media section and save and preview, it should work.





-Please do not quote the front page-