Anne Packrat
(?)Community Member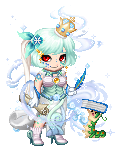 Posted: Sun, 18 Oct 2009 01:52:28 +0000
I do not have time to actively update this anymore. I'm sorry, but real life always takes the front seat and I would rather focus my time on my writing, my volunteer work, and my FA work on this site. I will leave this up, but it will not be actively updated anytime in the foreseeable future. Thank you all for your comments, it was a great run.
Welcome to one of the most comprehensive listings of "I Am" and "You Are" poses on Gaia!
Ever seen someone wondering around Towns or Rally as a bunny, dinosaur or even a piece of sushi?
Have you always wondered how they do that?
They're using an "I Am" pose! Many items have special poses that allow you to completely change your avatar into an animal, food, or even stuff like skulls and ghosts! This guide will show you all kinds of wonderful creatures and things you can become.
What is an "I Am" pose?
For the purposes of this guide, I'm defining "I Am" or "You Are" poses as things that completely change your avatar into something else without having to turn around or kneel. So something like
You are Grunny from the Grunny item
or
I am Scotty from Kinzie the Scottie Plushie
count, but things that just change your skin, like
Tropical Disease
or a
Dark Elf Potion
does not.
What items work with "I Am" and "You Are" poses?
Not a lot unfortunately.
sweatdrop
Some backgrounds or other things work with them, but the only way to be sure is through experimentation.
Do not use Tektek's Dream Avatar creator for this!
Tektek's layering is different from Gaia's and combinations that work on that site will often not work on Gaia. This is especially important with "I Am" poses, since so few things work with them.
Help! I keep getting a red square behind my "I Am" pose when I'm in Towns / Rally / ZOMG!
This is a known problem with many of the new "I Am" poses. Please make
a Bug Report
about the item or if it's an evolving item you could possibly submit it as a glitch to
NPC Stein
. If it's really bothering you then equip an older "I Am" pose like a Grunny or Hermes Moon. Those seem to be free of the red square.
UPDATE: Equipping the
Ants
item from the Fishing Shop can sometimes disable the red square glitch and make it appear normal. Also apparently Bibbles also has a glitch, but I do not have one myself to confirm this.
What are some of the cheaper "I Am" pose options?
This may change due to the nature of the marketplace, but some of the items that are generally pretty cheap (i.e. under or near 10k) are:
Meatball Fight
The Jack-O-Lantern
You Are A Cow
Cheepz
Starmony
Why is there no "I Am Prunny" option with the Prunny item?
I don't know. I'm kind of sad that they didn't include it.
How do I get Starmony the rainbow unicorn?
Go to
reapersun's Profile
and click on the picture you think would grant you a magical flying unicorn.
I am not sure but it may no longer be available.
How do I get Tutu the Flying Fat Cat?
Gaia's introduced a new random gift box called
Flying Fat Cat Alert
. Tutu is a rare drop from those. There is no set place or time to get a Flying Fat Cat Alert. It is completely random as you're browsing around the site.
Will you donate to me?
No, I will not. Begging or asking for donations through PMs, comments or posts (outside of Charity/Quests and Chatterbox) is against the Terms of Service and any I receive will be reported. Go play Booty Grab in the Gaia Aquarium forum if you want gold.
Some of the links in your guide aren't right!
In cases of active evolving items, the link may no longer be accurate because the item has evolved. I will try to update the links, but I might not always get to them in time. If the pose you want isn't there then check the other generations of the item and you'll find it there.
I found something you missed!
Then please by all means PM me about it or post in this thread. I did all the research for this myself, and while I spent a long time on it, I could have overlooked something.
Who did your banner?
The little banners were made by me. The nice big banner was made by a great artist whose name I sadly have forgotten (but fortunately already paid).
redface
If anyone has any idea who did it or if you are the one that did it please PM me and I'll give you credit. The pink and blue sig banner was made by the talented Blind Clarity!