BerlianDiamond
(?)Community Member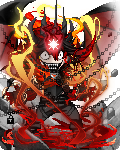 Posted: Sat, 25 Feb 2012 13:59:57 +0000
emorexic-pimp
This post is here just in case anyone was confused by how to equip Evolving Items. It also includes who to contact if you have a problem with the layering of any Evolving Item.
»» No Auto-Unequip:

There is currently a glitch with equipping evolving items when they evolve. The glitch is that once it evolves, the new pose does not remove the old pose on it's own. The way to get rid of the old pose is to go to your

Avatar page

and click 'Get Nekkid'. If clicking 'Get Nekkid' sends you to the home page, you may have to use the

old Avatar page

. Alternatively, you may click the 'fake pose' on the item itself.
As with all items, only one pose can be equipped per item. Say you had one Fausto's Bottle, then you would only be able to equip one pose of said item. The only way you could equip more than one would be if you had more than one Fausto's Bottle.

In this quote, Dr. Singh clearly tells us how to cause an item to evolve:
Dr. Singh
Everyone who bought Fausto's bottle before this afternoon should try removing it from their avatar and then putting it back on. They'll notice that it's started to change.
And if you reverse it then it means that in order to keep one pose on an item that has evolved and no longer has the pose available you simply don't take the item off until it reaches the final form and all poses from previous stages are available

Now I would like to turn the focus to something that still causes me to do a double take to this day. That thing is the question, "why does the first icon never work? Well, I may not have the answer, but I would like to point this out because many people are confused by this as well.
Dr. Singh
If you have Fausto's Bottle, go look at your inventory. When you click on it, it will bring up two icons: the one on the left is the item's default icon, and it won't do anything when you click on it.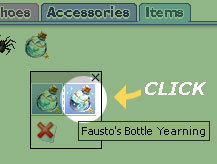 If for some reason you refuse to believe me then try it yourself in the marketplace, the first image will show up in every generation, yet it will not show up on your avatar in any of them. And thus, it is called a "fake pose". The reasoning behind this has to do with the thumbnail of the item for the marketplace/inventories. The system appears to require that the thumbnail for the entire item be a thumbnail for a pose of the item.

One thing that you may notice about your Evolving Items on any of your inventory screens (dress up, inventory, trades, marketplace, etc.) is that they have now started to sparkle blue. This is not an accident. It is a feature designed to help prevent certain scamming attempts. For more information on Sparkling Items, feel free to check out

A Guide to Sparking Items

. You can turn the Sparkles off on your

Account Preferences

page.
Layering Issues





As with all items on Gaia, EI's tend to have layering issues every so often. If you find a layering issue that you wish to see fixed, do as

this announcement

says and contact

[NPC] Stein

.



Do not report EI layering glitches to

Juno

!



To report a layering glitch to Stein, you must send him send him a

PM

. To report the glitch effectively, make sure you follow the form located on

his profile

.

Keep in mind that just because you report a glitch does not automatically mean that it will be corrected. Due to the vast number of items on Gaia and the limited amount of layers, fixing one glitch may lead to glitches with even more items. It is up to each artist to determine which problems they wish to fix.