Miss Conception
(?)Community Member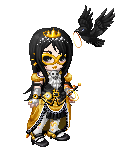 Posted: Wed, 16 Dec 2009 07:11:31 +0000
There's a chill in the air, multicolored lights twinkle from evergreen branches, and holiday cheer seems to radiate from countless pink-cheeked faces. It's
wintertime on Gaia
once again! While most Gaians occupy themselves with wrapping presents and trimming trees around this time of year, the supposedly abandoned
Durem Theatre
has been bustling with activity of another sort. The theatre staff are hard at work gearing up for the most glorious event of the season: a fantastic week of
winter-themed festivities
followed by a grand masquerade!
The building has been cleaned up quite nicely since it was last used, and everything looks pristine and perfect from the outside... but after the tragic events that haunted the Durem Theatre last Halloween, nothing can be certain. Rumors of a
prospective buyer
have been circulating around the theatre, along with the usual stories of
restless ghosts
and spirits. But, the staff are determined to put these unsettling matters behind them and throw a masquerade that will be talked about for many Christmases to come. Your presence would be greatly appreciated!