Mother Birthday
(?)Community Member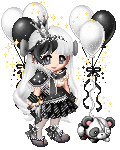 Posted: Sun, 11 Oct 2009 07:25:53 +0000
When is your current avatar's Gaia Registration Date?

A little history for you!!! Information found from
Wikipedia
Gaia Online is an English-language, anime-themed social networking and forums-based website. It was founded in 2003 as Go-Gaia.com, but the name was changed to GaiaOnline.com in 2004 by its owner, Gaia Interactive. Gaia originally began as an anime linklist and eventually developed a small community, but, following a statement by founder Derek Liu, username "Lanzer", the website moved towards social gaming, and eventually became a forum-based website. Today, over a million posts are made daily and it is visited by 7 million unique users each month (with over 23 million total registered users). Gaia also won the 2007 Webware 100 award in the Community category. In July 2007, Gaia released Gaia Cash that can be bought at Rite Aid, BestBuy, Wal-Mart, Target stores, 7-11, Speedway SuperAmerica, or directly from Gaia itself. 40% of Gaia's revenue stems from advertising geared toward Gaia's target audience; 13-25 year olds. In January 2011, the company won the Mashable Best User experience Award for 2010. Users of the site, known as Gaians, create a customizable avatar and a customizable virtual home for which they can purchase items using what is called gold. This is given to users after playing games or posting inside the forums; the site also rewards users every day with random gold or items with the Daily Chance.
Type: Corporation
Industry: Internet
Social Networking MMORPG
Founded February 18, 2003
Founder(s):
Derek Liu
Long Vo
Josh Gainsbrugh
Headquarters: San Jose, California, USA
Key people: Mike Sego (CEO)
Employees: 90-95 (estimated)
Website: www.gaiaonline.com
1st Gaiaversary gifts, 2004
-

S Gaia Tshirt,

M Gaia Tshirt,

XL Gaia Tshirt,

Paper Party Hat,

Noise Maka,

Mail from Gambino,

G Pin
2nd Gaiaversary gifts, 2005
-

V Pin (left half),

V Pin (right half),

Balloon,

Hat
3rd Gaiaversary, 2006
-

G Buckle,

G Shades Pink,

G Shades Yellow,
G Shades Blue
4th Gaiaversary, 2007
-

4th Anniversary Red Roman Candle,

4th Anniversary Blue Roman Candle,

4th Anniversary Super Roman Candle
5th Gaiaversary, 2008
-

Kitty Slippers
6th Gaiaversary, 2009
-

2009 Gaia Anniversary Sash - 2003 Edition,

2009 Gaia Anniversary Sash - 2004 Edition,

2009 Gaia Anniversary Sash - 2005 Edition,

2009 Gaia Anniversary Sash - 2006 Edition,

2009 Gaia Anniversary Sash - 2007 Edition,

2009 Gaia Anniversary Sash - 2008 Edition,

2009 Gaia Anniversary Sash - 2009 Edition
The sashes from 2009 were each given out according to join date -- so users that joined that year received 2009 sashes, users who joined in '08 got the 2008 sashes, and so on. Since they were somewhat "personalized" like that, and because they were meant to be in appreciation of the users' loyalty from the devs, they were soulbound... after a little while (for the first ten or so minutes, that wasn't the case -- some users listed theirs for sale in that window of time, but when they became soulbound, they essentially froze where they were, which is why users might still see some "for sale" in the marketplace, though those can't actually be bought).
7th Gaiaversary, 2010
-

Envelope (inside Envelope) Phee Chan Slippers, Radio Jack Slippers
8th Gaiaversary, 2011
-

Cupcake,
Coco Hat,

Kiki Hat
9th Gaiaversary, 2012
item -

Gaia 9th Anniversary Scarf
10th Gaiaversary. 2013
-
10th Anniversary Moobie Plush,

10th Anniversary Diamond Rose Corsage,

Formula 1: Ultra Satan Cat Face,

Astra-65: 10th Anniversary Unending Lament,

10th Anniversary B.O.O. Skin

10th Anniversary zOMG! Ring,

10th Anniversary Bargain Bin MMVII DVD,
10th Anniversary Zurg UFO Catcher,

10th Anniversary Kiki and Friends and Grunny Invasion Game,

10 Anniversary Freshly Fished Sushi, 1 more to come
Thanks to Dream_the_Endless and faolan for their knowledge with the Anniversary items.