Blaizekit
(?)Community Member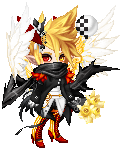 Posted: Fri, 02 Mar 2012 10:29:46 +0000

This was formerly the Team Captain Recruiting thread, now it's the Pre-Game show. This is so people can see what captains we have this year, and so there's somewhere to chat while we all wait for TDM to begin in April. I encourage you to get to know your team captain before the event begins!



Team Captain recruiting is CLOSED unless someone resigns. What you see in the post below is the official team/captain match-up.
In the meantime, we're holding a small mini-raffle. To enter it, just post in the thread saying you want to enter. (Entry is free.) Before the event starts, I will do the roll in this thread to see who wins.
I haven't decided on a prize yet, but as entry is free you really have nothing to lose by entering. ;B

List 'O Names

1. Von Bisclavret
2. Xits the Tragedy
3. Rizuzua
4. leandra21
5. Mrs Manatee
6. GuardFrog
7. Ayame-Yuura
8.Rannchan
9. DaynaDanish

Welcome to the Captain recruiting thread for the Seventh Annual Daffodil Movement For Cancer Awareness!

The Daffodil Movement has been held every year during the month of April since 2006 (except in 08 when it was held in May). During the month of April, we try to get as many Gaians as possible to equip a daffodil bouquet on their avatars for the whole month! It's time that we take out of our normal business on Gaia to remember those we've lost, honor those who fought and won, and encourage those fighting right now.

One of the main elements of the event is Teams, and that is where Team Captain recruiting comes in!

During the event, 10-11 cancer awareness teams compete with one another for title of Most Spirited. The teams are based off of different types of cancer, and whoever wins earns a real-life donation for the type the team is representing. For example, last year Team Cervical won, so I made a donation to the National Cervical Cancer Coalition.

The Team Captain is the person who makes the team thread in the TDM guild and manages it. We recruit captains in March in order to give them ample time to make their threads and gather members in time for the start of the event in April.
How To Become A Captain
Post in this thread stating your intention to become a captain, and which team you would like to lead if you have a preference. The teams are listed below. The teams are decided in advance because it's easier to manage them if the number of teams is restricted to 10-11; and the teams change from year to year to try to have more fair representation. There are some teams that exist every year, however, due to their demand.

Preference is not necessarily given to previous Captains... however, preference is given to regulars at my charity thread simply because I know/trust them on a more personal level.
If you have participated in a previous TDM or remember previous TDM's this is also helpful, though not necessarily required.

The positions are generally given on a first come, first served basis. If you would like to captain a team that has already been taken by someone, however, you can still make your case for why you should be the one. We will talk it out. Often times when someone is on the list of candidates for a team captain, they are just expressing their availability for the position.

There is no set time frame for the recruitment. It will go on until I feel like it's pretty certain who is going to be in charge of what team.
Captain Duties
When you express your interest in the position, I will make you a Crew member of the guild so that you can view the Crew-only forum. There is a guide posted in there called Team Captain Boot Camp that explains all the duties of a Captain in nitty-gritty detail. You will need to read it and agree to it before your position as a Captain can be finalized.

However, to give you a general idea, here is the team thread of the team that won last year, Team Cervical.

It's the job of the Captain to build and manage the team thread throughout the month. They keep their team organized and try to keep them as spirited as possible in order to win. Often times they will have their own games and contests. Often times they assign positions to people in the thread to help them out with things as well. The Captain has the freedom to formulate their team how they will. You will have until April to build your thread before it goes live.

The goal of the team as a whole is to increase awareness for the type they are representing, so there is usually information about the cancer and its risk factors on the thread as well. And of course, the more attractive the thread is, the better.