Miss Perfection
(?)Community Member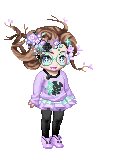 Posted: Sun, 03 Mar 2013 01:27:02 +0000
•
○
♣
☼
♣
○
•

What is that item you still quest, even when you started from a long (long+) time?
Oh my goshhhhhhhhhh my wishlist is huge and I vaguely quest things on and off because I'm super lazyyyy and have literally nil motivation XD

If you have ever quest something for such a long time, what do you do to get quest progress?
I think I quested the Urn when it was all hip and cool for something like a year ages ago? To get progress I don't buy ANYTHING which is super hard for me.

Do you do depend on Charity Threads?
Not at all XD

What do you think of Charity Threads/Questing Threads?
I posted in some ages ago but they all seem to have insane checklists and you have to hang around for ages with all these people sucking up and it's no fun. Only quest threads I visit are those of friends because spoiling people is fun!

Do you do what ever it takes to get that item/s you really desire?
No way, I'm lazy and usually get bored XD

Have you given up on questing before?
Like allllll the time. Right now I'm trying to get 1mil pure and I'm totally behind on my scheduled progress because I just get completely distracted by other things.