Undead Hatter
(?)Community Member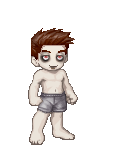 Posted: Mon, 18 Feb 2013 05:27:27 +0000
jettisoned corpse
Roxore
jettisoned corpse
Roxore
Alright I think this will go down tomorrow. Here are a few scenarios.
2) We get a BAD item and everyone decides that gaia just made us go threw 10 days of items for nothing. Get's mad for a few days, but later gets over it only to get upset over something they do later.


What does that even mean? Gaia didn't make you do anything. They had a celebration for their anniversary that you could choose to participate in. Giving away free special items for nostalgic sake. I really don't get why everyone thinks Gaia was "leading" up to something super special.
The item may be really nice or really cute, but apparently if it isn't a halo or backwings, some people are gonna lose their s**t? Wut?
Break down time!
We get a bad item
(Members of the site get a item that is a WE, not everyone might agree but I am saying we as a whole because a lot of us are expecting a grand item!)
Gaia just made us go threw 10 days of items for nothing.
(We collected items for 10 days logging in every day to grab one item, not many users have access to the internet every day so they are working hard to log in every day to collect the item. Causing the reason they might be disappointed.)
Get's mad for a few days, but later gets over it only to get upset over something they do later.

(The user gets mad at the site for a few days, but later forgets about it and gets over it entirely. Only for the site to mess up in their eyes again causing them to get mad once again.)
Note my post was rhetorical el oh el, also was not meant to be taken serious. wink
Again, what does that even mean? Not to be taken serious? So you just say stuff to say stuff and it was all for lulz? Your thoughts and opinions aren't serious? Huh? Why even waste your time posting then?
neutral
I guess you think rearranging your words from your original post is "breaking down" what you meant to me, when all I see is exactly what I originally saw (which btw, I was only referring to your 2nd option - which is why I only quoted that one - Not the 1st or 3rd).
Anyway, what I'm saying is that no one has to do this at all, whereas you're making it seem like this is some big deal where people have some right to be upset because they took their time to come onto a website for 5 seconds every day, to click on something to get a free gift (which if they care that much, they're probably on Gaia every day anyway), and if the final item isn't amazing, people are entitled to complain about it.
I'm sure with all the computers, laptops, and cellphones/smartphones out there, that the amount of users who have daily internet access is a lot higher these days, and if someone misses one of the daily prize (as I did), they can go pick it up for super cheap in the MP.
It's just supposed to be for fun and for people to get a little free special something for participating in the event. If we get something cool, than great, but I don't see why anyone is expecting something great for the oh so difficult clicking of a button for 10 days.
emotion_facepalm
tl;dr
emotion_awesome
Edit: I honestly don't give a flying s**t of what your opinion is. Some users don't have access to the site as much as others do. Ten complete days of none stop logging in is a hard feat to do on some schedules. El oh el, don't reply I don't care.