Lithium Blossom
(?)Community Member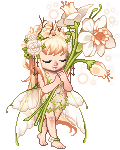 Posted: Sat, 02 Feb 2013 19:22:56 +0000
So it's been awhile since I've made a thread, and I think this is a good topic to start me off again. Every avatar is unique and normally follows some sort of theme, whether it be angelic, demonic, lolita, hipster, etc. But what I want to discuss is the evolution of a theme, how one small change can take the theme you created and morph it into something completely different. The reason I'm being nosy is because with my current avatar, I started out as a post-apocalyptic bride and with the change of a background, someone made the comment that I looked like a goddess visiting her abandoned and decrepit temple. The way a single change could completely change my theme was amazing and I just had to discuss it. What I want to know:

If the shift in your avatar's theme bothers you, do you change it?

Would you keep to the change in theme if it's a better combination of items?

If you don't convert to the change, why?

Is your original theme so important to you that you could never deviate from it?

Or does theme not matter to you and if so, why?